Security Tips For Ensuring Your Church Or Place Of Worship Is A Safe Place For All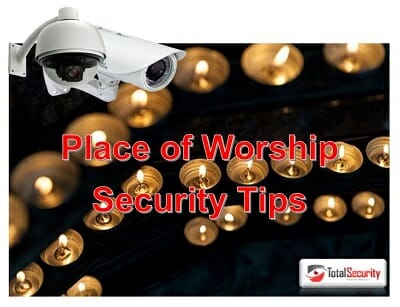 Churches and places of worship in New York and New Jersey should be a safe, secure place for worshippers to gather. Unfortunately, with high traffic volumes on days of worship, and an open door policy that most places of worship have, security can often be a difficult task. The safety of your congregants should be a top priority.
Unfortunately in today's world, these places of worship are not always a place of safe refuge. From vandalism to theft or even attacks churches, synagogues, and temples are just as susceptible to an attack as any office building, store, warehouse or any other public space. Many churches house priceless artifacts, documents, and other sacred relics, in addition to monetary, clothing and food donations boxes, which unfortunately makes these places a target for many thieves.
Church, Synagogue and Temple Security Tips
Some simple house of worship security tips you can put in place right now include limiting entry and exits points of the building, ensuring all door and window locks are functioning properly, and making sure all areas are well lit at night. In addition to these practical tips, having security cameras installed will allow you to have the ability to monitor your building 24/7 with remote access, so you can check in from anywhere in the world at any time.
Our surveillance security systems are designed to provide tasteful aesthetic features of a church or place of worship and can blend in with the design of a church or temple. Many of these cameras are unnoticeable allowing people to worship freely and not feel as though they are being watched.
When installing cameras, it is important to identify the areas the surveillance cameras are most needed. It is recommend to install a combination of cameras indoors and outdoors in order to best protect your building. Install cameras at entrance and exit doors as well as in parking lots.
Often times a criminal will vandalize a camera to hide their identity prior to committing a crime so it is important to have backup cameras on hand to replace any that may get damaged.
From theft to vandalism you want to ensure your house of worship is protected. Total Security offers security products and protection services to churches, synagogues, temples, and other places of worship on Long Island, NYC and the entire New York and New Jersey area.
Contact us today to learn more about our place of worship security services. Call our support staff at 516-775-2304 (New York location) or 201-594-7233 (New Jersey location).