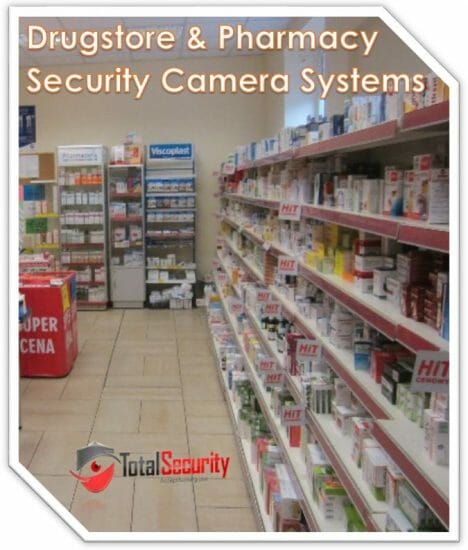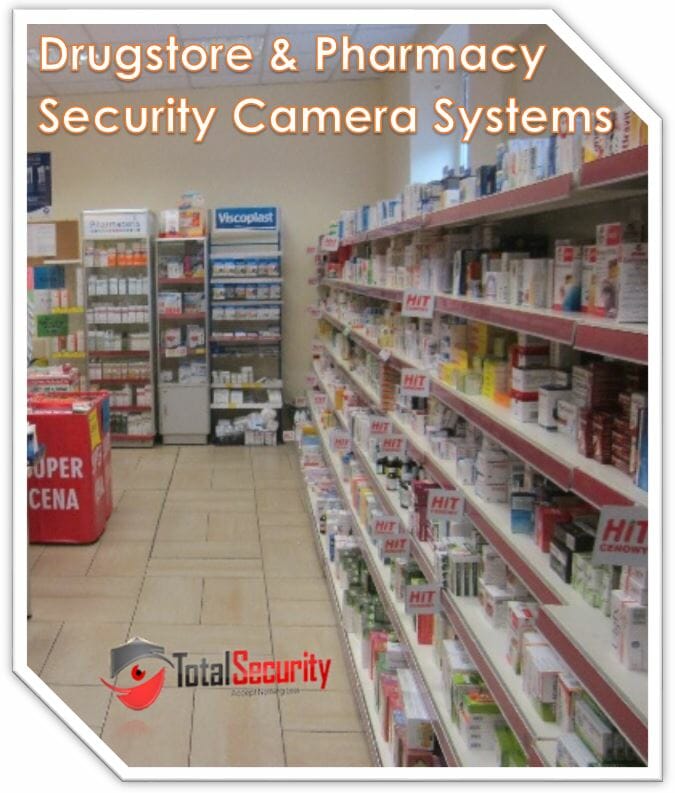 If you own or manage a drugstore or pharmacy on Long Island, New York City or New Jersey, Total Security can help protect your business from potential theft and robbery. Unfortunately, the reality is with growing addictions, pharmacies and drugstores are often prime targets for theft. Which is why having security systems and video surveillance is an important investment your business should make to protect both your employees and customers.
Unlike most businesses, when a pharmacy or drugstore is robbed, it usually isn't for money, but rather for narcotics or other prescription drugs. This will often cause potential thieves to go through more extreme measures to get what they want. From breaking through drive-thru windows to armed robbery with a store full of people, would-be robbers often through caution to the wind with this nature of crime.
In the United States, prescription drugs are the second most abused category of drugs, The Centers for Disease Control and Prevention have classified prescription drug abuse as an epidemic in this country. These facts mean that owners of pharmacies and drugstores, have to take extra precautions to protect their business, employees and customers.
Pharmacists Mutual has found and reported that when it comes to pharmacy crimes, 91% of them are burglary or break-ins. As the owner or manager, you need to implement effective security measures now to protect your business from suffering from loss caused by theft. Having a highly desired inventory makes your business particularly susceptible to theft. Without pharmacy security systems in place, you leave your business, employees and customers vulnerable to theft and possibly even risk physical harm in the event of armed robbery.
It is important to regularly assess your existing security system and ensure that it is up-to-date. To get the most effective protection possible, consult a reliable and experienced security systems company.

Pharmacy and Drugstore Total Security Solutions
 Security Cameras – Drugstore and pharmacy security cameras will help to deter most of those who want to commit a crime. This is especially true if you have signs posted indicating that there are security cameras in place. In the event your pharmacy is robbed, this can give police a clear lead on who committed the crime. Security cameras work day and night and have the ability to quickly have its feed sent to the police department for analysis thanks to technology.
Alarms – Store alarms can be either silent or loud. When an alarm is triggered by a potential robber it will immediately alert the proper authorities of the theft.
Biometric Locks – These locks can be set up to be time sensitive for employee shifts, and be made so only their biometric data can open secure substance lockers. Biometric locks get rid of the need for keys and traditional passcode keys. Software companies also offer business the tracking of biometric data for sensitive security situations.
In addition to these safety measures, we recommend installing your pharmacy or drugstore with visible cameras, signage about the security camera, ensuring your employees are alert and aware of the security measures they should take in the event of a robbery and having the store set up so the pharmacy counter can be seen from the front. These are all security measures you can do to make sure your pharmacy or drugstore is less appealing for would-be thieves.
Total Security is an A+ BBB rated company with over 10 years of experience in installing pharmacy and drugstore security cameras and access control systems on Long Island, NYC, and New Jersey. Our technicians and security experts are among the most knowledgeable in the industry. From start to finish, we will work with you in designing, installing, maintaining and repairing any existing surveillance camera systems.
Contact Us For A FREE On-site Evaluation
Contact us today for a FREE onsite quote. Please call (516) 775-2304 for Long Island & New York City security camera installations or if you live in New Jersey, please call us at (201) 594-7233. Total Security will design, install and help you manage any type of security systems for pharmacies or drugstores. Call us today!
Further Reading:
https://www.cdc.gov/drugoverdose/epidemic/index.html
https://www.phmic.com/wp-content/uploads/2017/02/415220-Crime-Report.pdf