Safety Tips For AirBnB Hosts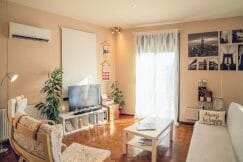 With the increasing popularity in renting out your home on sites like AirBnB, it is important that you understand how to keep your home safe while renting your property. There are many risks involved in allowing strangers to use your home, and there is also the need to ensure those who rent it feel safe while staying there. Total Security has over 15 years of experience installing video surveillance and security alarm systems in homes across Long Island, New York and New Jersey and can help you keep your rental space safe and protected.
There are typically two types of AirBnB host. Those who have a piece of property specifically for rentals and those who rent their own home during times they are away. The first type of host typically does not have any valuables in their rental home, and don't have to worry about protecting their valuables. While the second type of host, will have to concern themselves with protecting their home and valuables. Regardless, both types of hosts need to concern themselves with keeping their property safe and keeping those who rent their home feeling safe.
If you are an AirBnB host on Long Island, New York City or New Jersey, here are some great safety tips to keep in mind.
Install smart locks and access control systems.

Utilizing

access control systems

are a great way to monitor who is entering and exiting your home. If you install a smart lock you can even provide remote access. Access control systems are also perfect to restricting access to guests, keeping them out of places such as bedrooms, offices or parts of the house you do not want to grant them access. They also allow you to assign temporary access codes to use during their stay, giving them access to the home without requiring your presence.

Install video surveillance.

While this may seem obvious, it is an important safety measure to consider. Installing

security cameras

in areas like entry points and restricted areas is a great way to deter break-ins and negative behavior by guests. However, it is important to be sure you are abiding by privacy regulations and keeping them out of guest bedrooms and bathrooms and disclosing the cameras to your guests per AirBnB policies. When used correctly, these are a great way to remotely monitor your home and give your guests peace of mind, knowing that they are safe during their stay.

Integrate mobile monitoring.

As an AirBnB host, mobile monitoring allows to you check in on your rental property to ensure things are going as they should be. They also enable you act promptly in the event something does go wrong.
In addition to the safety measures above, you may also want to consider creating a set of house rules for all of your guests to abide by, requesting a security deposit for guests in the event of damage, screening potential guests and ensuring you communicate with all of your guests prior to their stay.
Being an AirBnB host can be a very successful business venture with the right safety precautions. If you don't already have a security measures in place, call us today. Total​ ​Security has over 15 years of experience in installing residential alarm systems and providing security services and products​ ​to homes on Long Island, NYC and New Jersey. ​ ​​Call​ ​our​ ​support​ ​staff​ ​at​ (516) 775-2304​​ ​​ ​(New​ ​York​ ​location)​ ​or 201-594-7233 ​​(New​ ​Jersey​ ​location).