5 Ways Business Video Intercom Systems Are Used in NYC
Today's corporations, law firms, real estate brokerages, financial institutions, and other types of businesses you may find on Wall Street or retail stores throughout NYC are more concerned about the safety of their employees.
For this reason, business owners, and property owners have installed innovative video intercom systems.
What Are Video Intercom Systems Used For Exactly?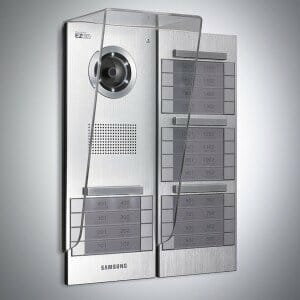 Video intercom systems are designed to help you improve the security of your building including everyone and everything inside. Additionally, video intercom systems allow you to identify potential intruders before they even step foot inside a building. The main advantage of having this type of system installed in your building is that it enables you to see every individual before giving people access.
If you're searching for a way to deter criminals from breaking and entering your building, installing a video intercom system will help discourage them.
Enhance Communication
Many companies are also looking for more effective ways to help enhance communication in the office, video intercom systems are a great solution.
One advantage of using an intercom system is that it also supports video calls. As a result, you and your team members can communicate without relying on emails, instant messaging, texting, or phone calls.
Here are 5 additional ways business video intercom systems are used in NYC:
Access Control Capabilities
Did you know you can restrict certain areas within your building with video intercom system verification? This adds an extra shield of security and protection.
Many commercial buildings in New York City use key cards on a daily basis. The downside to using this method is that it can be stolen or lost. When a stranger gets a hold of a key card, that's considered a breach of security. Video verification eliminates the need of using keycards.
Boosts Property Value
Whether your building houses multiple businesses or one business, having an innovative intercom system with video verification can increase the value of a property and influence a commercial buyer's real estate buying decision.
In today's competitive commercial real estate industry, buyers want more. They not only want a fully functional building with all of the amenities and perks, that want safety and security. Protecting individuals is crucial, but it's not enough.
If you are storing customer data, it's imperative you have access to a robust video intercom system. Some intruders' primary job is to slip into a building (in broad daylight) to confiscate customer information.
See All Activity At Your Door In Real-Time
A video intercom system allows you to view mail that is delivered. You can also monitor your visitor's front door activity before giving them access to a building.
Additionally, some video intercom systems will allow you to capture, date-stamp, and store images into the system.  If an event occurs, you can review the footage.
Vandalism Prevention
Criminals are less likely to vandalize a building, break-in, or steal packages when they actually see a business using a video intercom system.
Total Security Offers Free, No-Obligation Consultation
You can protect your employees, customers, and visitors who enter your building by getting video intercom equipment installed in your NYC office or apartment building. Having an extra layer of security is worth the investment. You will have peace of mind knowing your business is safe and secure.
Contact Total Security today at (516) 775-2304. One of our representatives will schedule an appointment for you.