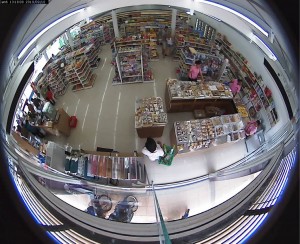 Supermarkets can lose millions of dollars per year to customer and employee theft. Investing in security systems as a solution to supermarket security problems provides a number of long-term benefits. Security camera systems help reduce shrinkage, increase profits, lower insurance rates, and will eventually decrease the number of theft cases. It helps instill a safer and more inviting environment for shoppers.
3 Top Benefits of Security Cameras in Supermarkets
Deterrence – Security cameras act as a huge deterrent against burglars and from anyone attempting to break in to the premises when stores are closed.
Productivity – With surveillance cameras, you can monitor and track the performance of your workers which will promote improved productivity in your business. Additionally, recorded footage can help solve customer complaints and other matters where video playback may be of assistance.
Evidence – Recorded videos or footage through surveillance cameras can be used as evidence to bring criminals to justice as well if someone sues your company for personal injury, such as in a slip-and-fall case.
Watch our Ad

Use The Most Up To Date Camera Systems
HDCVI Cameras – This type of camera system is considered to be the latest high definition camera in the CCTV industry that supports up to 2 megapixels resolution. The most important reason why HCDVI should be a part of any supermarket security system is that these cameras work over an existing coax cable. If you are already using a high quality coax cable then you will save yourself from stress and a lot of undesirable expenses when you upgrade your CCTV camera to a higher definition camera. HDCVI cameras are also low in cost, free of technical issues, and they come in different varieties.
HDTVI Cameras – HDTVI combines the transmission of analog image processing with the high-resolution optical imaging of HD digital and IP megapixel technologies. This camera system provides extended transmission distance and requires less storage capacity. Some of the advantages of using this type of camera system are that they are easy setup; they do not need any special knowledge or additional labor cost; and, they do not tend to have network video problems like bandwidth instability, data packet loss, and latency.
IP Security Cameras – Internet Protocol Cameras, also known as network cameras, are digital video cameras commonly used for IP surveillance that can send and receive data via internet and computer network. It is considered as a digitized version of CCTV. The benefits of using this type of security camera system in grocery stores and food markets include remote management, the ability to easily send images and video anywhere, better quality images and resolution, digital zoom, adjustable frame rates, and the capacity to notify if suspicious activity is detected.
Closed-Circuit Television (CCTV) – This type of security camera is a TV system which is commonly used for surveillance purposes in stores and markets. Signals from these cameras are privately distributed but can be monitored. The system is called "closed-circuit" because the cameras, video recorders,  and TV monitors communicate across wireless communication links or coaxial cable run. Good monitoring using this type of security system requires strategic placement of cameras and private observation of its monitors. CCTV allows tracking of human activities and maintaining perimeter security.
Analog Cameras – This type of camera system digitizes the captured images for processing, providing increased video quality and frame rate. These cameras perform well in different lighting conditions and manage human activities well. One of the top benefits of using analog cameras is that the bandwidth is virtually unlimited. It cannot be interfered with any external video surveillance problems. Additionally, once these cameras are installed, they require little maintenance. Analog cameras are known to provide total security with a long track record for reliability.
Who Should You Trust In Installing Supermarket Camera Systems?
Below are some factors you need to consider to help you find the most reliable supermarket security camera system installers in NYC and Long Island:
BBB Rating – Your chosen company should be A+ Rated.
Years of Experience – You should hire a company that has over ten years of experience.
License – Check if the company is licensed to perform security system installations.
Local References – Check for reviews – the company should have strong positive customer reviews and references.
In-house Capability – Choose a company that will not only offer you products but also a company that can provide you with customer support and ongoing service.
Total Security – The company should provide Total Security to your business and employees.
As security cameras are considered to be the best solution for supermarket security problems, it is very important to only hire the most reliable security system installer in New York City and Long Island.
Total Security has been installing supermarket security cameras on Long Island and in New York City for over ten years. Our trained, licensed technicians are among the most reliable and knowledgeable in the industry. While there are some companies that only offers cameras, Total Security provides ongoing product support and maintenance. We have the ability to design, install, maintain and repair almost any type of security camera system.
To learn more, please come visit us at 206 Hempstead Turnpike, West Hempstead, NY 11552 or call us at (516) 775-2304.