Nursing Home Security & Safety Upgrades Needed to Stop the Spread of Disease: A Look at COVID-19's Impact and What Could Have Been Prevented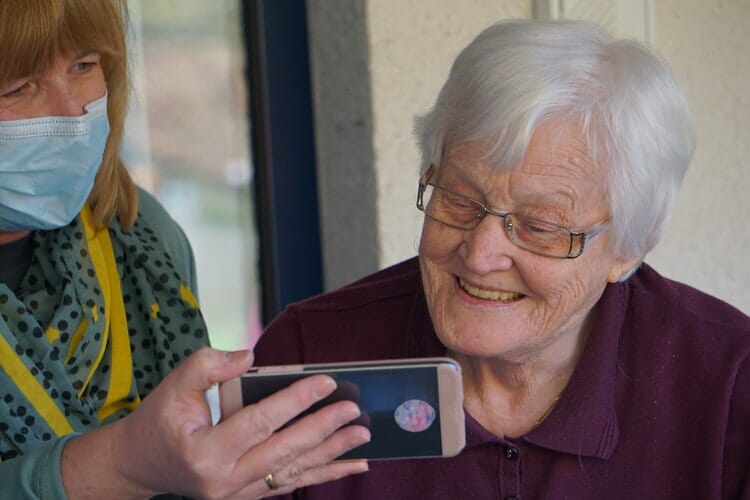 The Coronavirus outbreak has impacted many industries and businesses negatively, especially the nursing homes in New York City and Long Island. Nursing homes tend to be understaffed which can make it difficult to care for their patients, and the presence of COVID-19 made this problem even more prominent. In fact, the New York Times reports that one-third of COVID-19 deaths in New York State took place in nursing homes or long-term care facilities. Lack of testing for the Coronavirus in these facilities also created an issue in regards to infection control in nursing homes. 
As the manager or owner of a nursing home facility, it is imperative that you take the necessary steps to prevent further deaths from occurring within your facility. Your job is to protect not only those residing in your facility but also those working and visiting it. If families feel as though they cannot trust the well-being of their senior family members, they will not continue to have them reside in your building. This can lead to a loss of revenue and ultimately damage your business. 
The lingering presence of COVID-19 means that nursing homes and long-term care facilities will need to drastically improve health and safety measures. This means that you will also need to consider adjusting and improving the security measures within your facility in order to ensure your facility can meet the demands of increased and improved safety measures.
At Total Security, we can assist you in creating an all-encompassing security solution for your nursing home facility that will cover everything from the safety of your residents, employees, and visitors, your tenant's belongings, to their physical well-being. Keep reading to see what options are available, and what new safety and security measures you should consider implementing. 
Safety Measures to Implement in Your New York Nursing Home
Improving your safety measures is vital to ensure you don't have deaths in your facility or infect your residents, employees, or visitors. Some safety measures to consider include:
Requiring the Use of Masks & PPE
Right now, all employees are required to wear masks, and if your home is open to visitors, guests are likely required to wear masks as well. Eventually, the requirement for masks will no longer be in effect by New York State, however, you may want to outline guidelines for mask usage after the spread of the virus has waned. For example, you may want to require that employees wear masks or PPE (Personal Protective Equipment) around any residents who are sick with any type of illness, and require their guests wear masks when in public areas.
Test Residents and Employees
Having the ability to test residents and employees in-house for the Coronavirus is very important as it can help you identify those carrying the virus and have them isolate if they are a resident, or take a leave of absence from work if they are an employee. This safety measure does not need to be restricted to COVID-19; it is also ideal to have the ability to test for the flu as well during flu season. 
Implement Fever Detection Cameras  
Fever detection cameras, or Elevated Body Temperature (EBT) Cameras, can be used to monitor the temperatures of anyone accessing your facility. This can greatly help to prevent the Coronavirus (COVID-19) from spreading as you can quickly identify someone who may be sick. 
These thermal camera systems detect the presence of a fever or elevated body temperature in an individual from a safe distance which means you won't need to assign an employee to this task and risk exposing them. 
Fever detection cameras are helpful in determining whether anyone accessing your facility has a fever, including employees, visitors, medical personnel, delivery drivers, or anyone else accessing your building.
Prepare Isolation Areas for Residents
Similar to hospitals, having isolation wings or rooms at-the-ready to deal with virus outbreaks, it would be ideal to have in your nursing home facility. This will enable you to move sick residents out of their current room temporarily until they have recovered. 
Security Solutions to Support Improved Safety Measures
In addition to these safety measures, you may want to consider implementing security measures to enforce them. For example, having an isolation area or wing for sick residents can help reduce the spread of illness, but in order to do so, people who should not access those areas have to be kept out. The best way to enforce this is by installing an access control system that will keep unauthorized personnel out of restricted areas. 
Additionally, installing a video intercom system can complement your access control system if someone tries to access these areas without proper credentials; they will have to request access, and you will be able to then grant or deny that access after screening them through the video monitor. These access control systems are also ideal for entrances to your facility to prevent people from being able to access your facility freely. Again, you can have visitors or delivery drivers request entry and you can then screen them prior to entry. Paired with elevated body temperature cameras, you can instantly restrict access to anyone presenting a fever. 
Finally, if you don't already have a security system in place, this is a great time to implement one. A security system will quickly alert you if someone breaks into your facility especially when visiting hours are over. Remote monitoring is also available, so you can keep an eye on your facility from your laptop or mobile device. 
Contact Us Today to Upgrade or Install New Nursing Home Security Systems
When it comes to installing security systems in nursing homes, Total​ ​Security is able to oversee the entire process from installation to continued service and maintenance. Total Security offers all of our clients lifetime technical support and is always on call in the event of an emergency in your facility. Rest assured that our team is taking proper precautions during the COVID-19 outbreak to ensure the safety of our customers and our employees and prevent the spread of the virus. 
Contact Total Security at (516) 775-2304​​ ​(New​ ​York​ ​location)​ or (201) 669-4553 ​​(New​ ​Jersey​ ​location) to take advantage of our FREE nursing home security evaluation today.