Total Security Installs Robust New Security System for Le Havre on the Water, Whitestone, NY
Total Security Completes One of the Largest Intercom Projects of 2020-2021 installing 1,024 intercom units along with 160 Security Cameras for Le Havre.
Hire Date:  October 2020
Completion Date:  March 2021
Location:  Le Havre on the Water – Whitestone, New York
History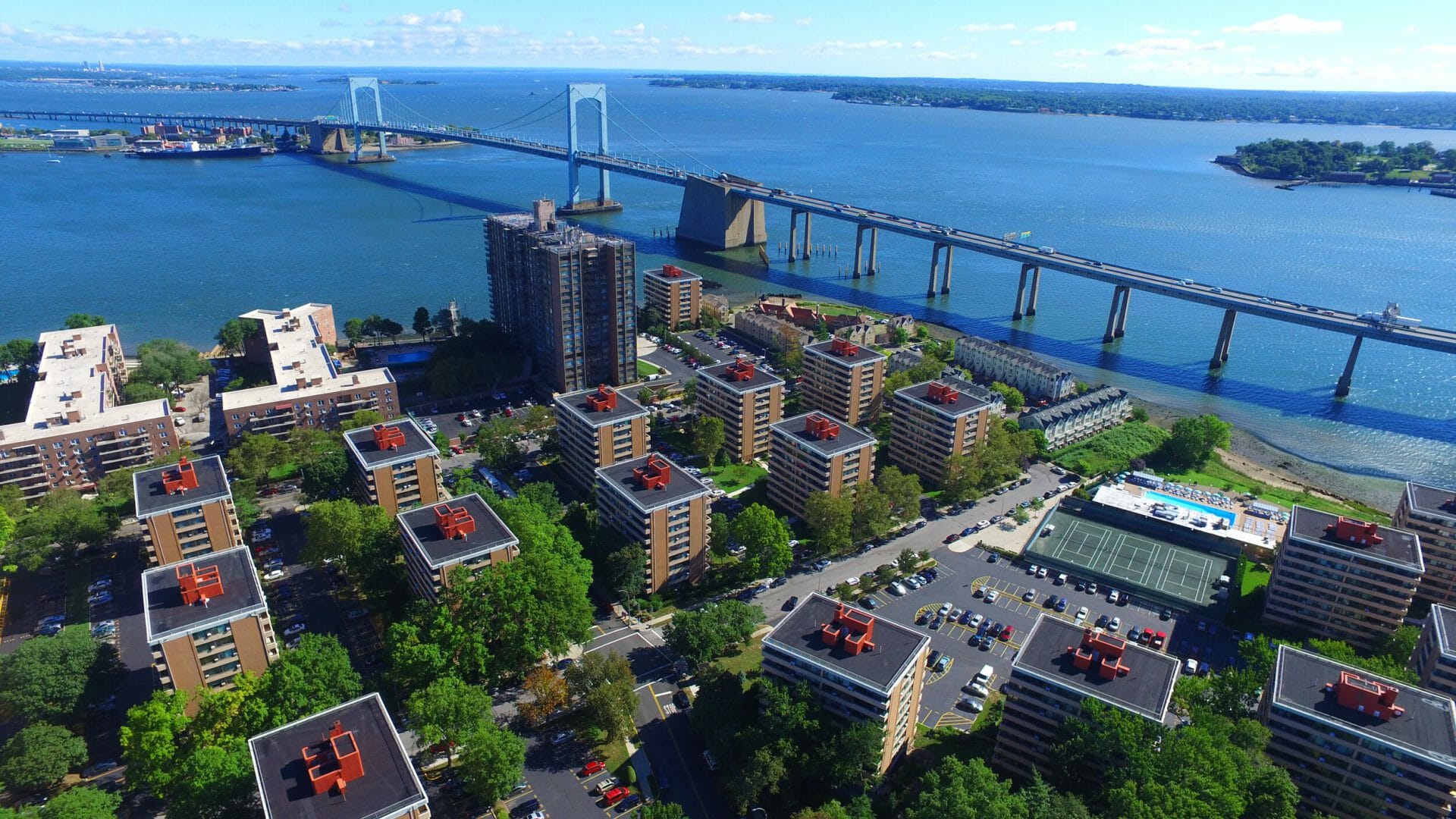 Designed by George J. Miller, AIA, and built in 1958 the Le Havre is a 28-acre waterfront apartment development in Whitestone Queens. In September of 1984 it was transformed from luxury rental apartments to Residential Co-op (cooperative). With 32 buildings and 1,024 units, Le Havre on the Water is minutes from all major highways and airports and offers magnificent views of the Long Island Sound. Total Security was interviewed along with multiple other security companies. An onsite evaluation of the needed work was done, and a bid was submitted with scope of work, equipment, and pricing. Total Security was selected based on its 20 years of experience and professionalism. Our previous installs at this property involved 2-3 security cameras placed in the pool, fitness, and tennis courts areas as well as access control systems.
Le Havre's Problem
Le Havre had a 20-year-old, audio only, intercom system that was not up to date with technology making it impossible for tenants to see who was at the main entrance door; this allowed unauthorized persons to enter. Along with not knowing who is entering, there was an issue with car and apartment break-ins, as well as bike and package theft. Le Havre wanted to make their residents safer.
Total Security Solutions
The Total Security team installed 1,024 video intercom apartment units with Wi-Fi and app, 32 main building entrance panels with 32 bells each. A smart phone app allows for Co-op owners to remotely see, speak, and let visitors in who you know while turning away those you do not. The ability to see, not just hear, who is at the door allows for better control of who is accessing the building. In addition, we installed 160 HD IP Cameras with Infrared Night Vision. Per building, 4-7 cameras were installed with the goal being to deter any vandalism, apartment bike, and car theft to keep undesirables with bad intentions off the property.
Installation Challenges
One of the biggest and most obvious challenges for this installation was due to COVID-19. Coordinating with the Co-op owner's personal schedule as well as their comfortability with the ongoing pandemic was a daunting task. Coordination was vital to provide us access to their apartments in order to upgrade and install the video intercom unit. With 1,000+ apartments, being efficient, clean & respectful was key to our successful installation.
How Total Security Overcame Installation Challenges
Total Security Integrated Systems was able to coordinate with Le Havre residents as well as disinfect (due to COVID) their residence when the job was completed. There were some minor issues when it came to the intercom due to using their existing wiring. In some cases, we had the issue in the existing wiring and then needed to run a new line for that particular apartment. Fortunately, approximately 95% of the existing wiring was functioning. We handed out a "How To" tutorial (video and hard copy) to each tenant on how to use the intercom and we provided each one with our office number to call our tech support for assistance when needed.
Does your NY Apartment Building need an intercom / video intercom / security system upgrade or installation? Total Security Integrated Systems of New York can upgrade your outdated audio intercom system using the existing wiring and upgrade to a state-of-the-art video intercom system at an affordable price. Call (516) 775-2304 to request a FREE quote.