Property management companies on Long Island, New York City or New Jersey are responsible for the safety and security of their properties, their tenants and their tenant's visitors. This means property managers need to safeguard their properties against theft, vandalism, and liability 24/7.
At Total Security, we understand the challenges faced by property managers and offer the solutions you need to ensure the security of your property and the safety of your tenants. Call (516) 775-2304 today for your FREE on-site security evaluation.
We offer property management companies the following:
Comprehensive site security assessments
Security strategies & solutions for single to multiple building complexes your company manages
Estimates that are simple, clear, and easy to understand
Clear communication to you throughout the entire installation process
Lifetime technical support
99% on budget and on-time delivery success rate
A seamless professional process from the moment you call us to the complement of your installation
A stable long-term team committed to supporting your company
Having a cutting-edge video surveillance and security system can be the deciding factor that causes a potential tenant to sign a contract. Here are the security measures we recommend for managed properties:
Property Management Surveillance Cameras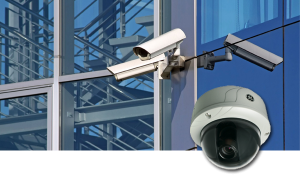 Video surveillance cameras provide an unparalleled level of security for your property. Whether you manage an apartment complex, condominium or co-op community, or a commercial property with multiple tenants these cameras redefine the security and protection of your properties.
You'll be able to monitor areas like lobbies, entrances, hallways, public areas, storage areas, and parking lots. Property Management security cameras act as an extra set of eyes in the event something goes wrong. It also enables you to alert the authorities in the event you notice suspicious activity. Regardless of the type of property you manage, there are many different reasons why you should consider installing a quality video surveillance camera system for your New York or New Jersey property. Learn more about surveillance cameras.
Access Control Systems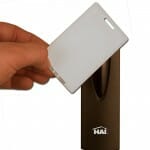 Access control systems enable your renters to limit who comes and goes into your building or individual units.  These systems allow you to control who can get into your building and who can't at any time. Access control systems can be installed on interior or exterior doors, gates, and vehicle entry points, enabling you to monitor who is entering each of these areas and when.
Another benefit of installing access control systems in your managed property is it enables you to restrict and monitor access to your building, facility, offices and other restricted areas to keep unwanted personnel out. Learn more about access control systems.
Video Intercom System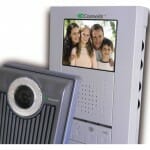 A video intercom system allows your tenants to pre-screen visitors without having to open their door. This helps to improve building security because you can control who has access to your building and prevent unwanted visitors from getting inside. Video intercoms provide 24/7 communications and provide the simple two-way communication that is as simple as the press of a button.
When a visitor wishes to access the building, they will select the unit number they are trying to visit on a control panel that is located outside, at the entrance of your building. After entering the unit, a camera will be activated displaying a live video and audio feed of who is at the entrance on the interior panel inside your tenant's unit. Our video intercom systems can be integrated with other security systems you have in place to elevate the level of security and monitoring of your apartment building. Learn more about video intercoms.
At Total Security, we understand the security issues faced by property managers and how a quality security system can increase the safety of your tenants and properties.  Our Security Consultants understand that there is no "one size fits all" system and will work with you to develop a comprehensive security and safety solution that meets your needs. To learn more about how Total Security can help your business contact us here.
TOTAL SECURITY CAN MAKE YOUR PROPERTY MORE SECURE – CONTACT US TODAY!
Security solutions from Total Security Integrated Systems can help manage any security and safety challenges for businesses in NYC, Long Island, and New Jersey. Total Security is a full-service security camera system installer with over 15 years of experience in installing commercial video surveillance and access control systems with a A+ BBB rating.
Property management companies, managing multiple buildings, keeping your tenants satisfied and maximizing your bottom line is challenging; that is why Total Security makes security simple for you. We pride ourselves on professional installations and maintenance service of security cameras, alarm systems, video intercom system and access control systems for commercial and residential buildings.
Call our support staff at (516) 775-2304 (New York location) or (201) 594-7233 (New Jersey location). We offer FREE property management security evaluation. Contact us today!