Keeping Your Business Safe During A Relocation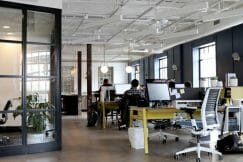 If you are planning to move your Long Island, New York City or New Jersey business to a new location there are some various security tips to consider to keep your business safe during the relocation. Total Security has over 15 years of experience keeping businesses safe by installing video surveillance and security alarm systems, and can help protect your assets during a relocation.
During a business relocation you need to consider many factors. In addition to dealing with all the details of physically moving your business, you need to consider keeping sensitive documents secure, and protecting inventory or other important material safe from theft. Here are some tips for maintaining high security before, during and after your move.
Before The Move
Prior to your move you should develop a plan for the move and share it with your employees. This can include creating a moving committee, notifying vendors, business partners, banks, insurance companies and customers about your impending move and taking a full inventory of your office or building. If you plan to use the move as an opportunity to get rid of old files, computers or other material be sure to get rid of them properly. This means shredding documents and ensuring hard drives and computers are wiped of information correctly.
During The Move
During the actual move, keep a watch on all activities in both your old and new location through video surveillance systems, these systems also allow for remote monitoring so you can keep an eye on both locations through your mobile device. You should also have a security professional uninstall your old security system and migrate it to your new location. This also keeps any sensitive information safe and private.
After The Move
Once you have successfully moved, the first step you should take is conducting a security audit. Hiring a security professional to come in and discuss any risks or loopholes in your security is ideal. You should also take this time to remind your employees of your business' security rules and regulations and reinforce them. This is also the best time to inform your clients and customers of your move, rather than telling them beforehand since that can encourage potential thefts during the moving process.
Moving your business can be a very stressful experience, but it doesn't have to be with the right precautions.  If you are moving or have already moved your business and need a security evaluation, call us today. Total​ ​Security has over 15 years of experience in installing commercial alarm systems and providing security services and products​ ​to businesses across Long Island, NYC and New Jersey. ​ ​​Call​ ​our​ ​support​ ​staff​ ​at​ (516) 775-2304​​ ​​ ​(New​ ​York​ ​location)​ ​or 201-594-7233 ​​(New​ ​Jersey​ ​location).