Old School vs New School: Audio vs. Video Intercom Systems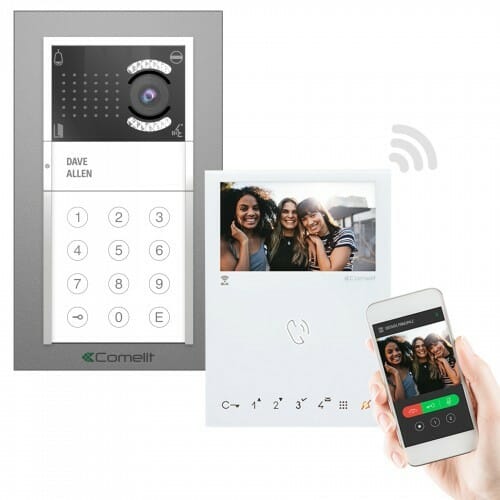 A lot has changed in the century long history of apartment intercoms from when they were first introduced all the way until the IP revolution. If your apartment building is the one with an age-old audio intercom, you'll eventually realize that it is not as reliable as you'd expect. While it was a great technological advancement, when it first was introduced in 1894, newly released intercoms should be installed to maximize the benefits that modern safety has to offer as well as allowing a more convenient way to communicate (i.e. mobile app).
Traditionally, an intercom system was an electronic system installed in buildings with five apartments or more that enhanced audio communication between people at different areas via a door unit and room unit. However, audio intercom systems are not as secure as video intercom systems. Audio only intercom systems are not as effective at deterring undesirable individuals. However, with a video intercom system, it gives you more control and intel on who you decide can enter the building. Hearing who is there is one thing but seeing who is there is another.
If your intercom system is eligible to pair with a smartphone app, it allows you to open your door1  from anywhere in the world with a tap of the screen. Fortifying property entrances, especially in multifamily communities, is the first step in securing your building. Buildings that are secure can and probably will attract potential tenants. A multi-unit video intercom system works very well with surveillance procedures, which not only increases tenant safety but also generates confidence in building supervision to care for and protect their home. A cutting-edge system allows you to see, speak, and buzz in a visitor no matter where you are in the world!
Why is a video intercom upgrade system with existing wiring important?
The price is reasonable
Clean and Hassle Free; Sleek Design
It's time to get with the times and enter 2021 with an updated video intercom system
If you are looking to upgrade your current intercom system in the New York area, consult an expert and choose a company with close to two decades of experience and expertise in video intercom upgrade to get the results you want at a highly competitive rate.
1Gruber, Johanna. "The History of the Apartment Intercom System." ButterflyMX, Sept. 2020, butterflymx.com/blog/history-of-apartment-intercom-system/.