Church Security Systems – Protection against Place of Worship Crimes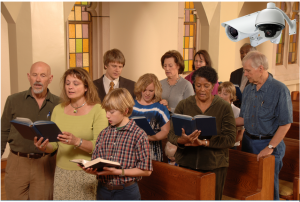 Heartbreaking events around the world have brought the issue of violence against faith communities to the limelight. Recent terror attacks and threats have forced people to experience feelings of vulnerability, thus focusing our attention on improving temples, synagogues, and church security.
Many churches in New York typically have open-door policies, for good reasons. Churches want to be accessible to anyone in the community who needs help. They also want to reach out to the community for important religious and spiritual work. Unfortunately, an open-door policy can encourage negative consequences, like theft, vandalism, and even terrorism. Considering these crimes, closing the doors is a tough decision to make.
Churches have many different resources to keep and protect. This includes a large amount of money received from collections and fundraising programs and it is important for administrators to ensure that these funds are protected. No one wants anyone to break in and steal what is rightfully for the faith community.
Additionally, churches often serve as a reservoir of historic and sacred items. They store significant documents, relics and more that tell the history of its town because, often, churches were the first structures built in a community.
Any destruction or theft of these historical documents and artifacts cannot be measured in dollar amounts because they are priceless. For the community, these records and artifacts are irreplaceable.
Most of us probably think that security camera systems are not needed for places of worship, but unfortunately, these sacred places are not exempt from criminals.
The installation of suitable church security systems in areas where important assets are stored should be the main priority. Churches, synagogues, and temples are just like any other establishment in terms of protecting their properties against theft and vandalism.
One of the best ways to help secure churches is by installing high-quality surveillance systems at the right locations. Surveillance cameras will act as a deterrent for anyone planning to commit burglary or vandalism, and can provide crucial evidence for any crimes that could happen on the premises.
There are many types of church security cameras. Wireless cameras are more common. The advantage of installing wireless cameras is that the footage can be viewed remotely and only authorized individuals can monitor to ensure no one breaks into the premises. Security personnel can monitor the inside and outside of the building and can alert the police for any suspicious activity.
In installing security cameras, it is important to first identify which areas these devices are most needed. For wide monitoring, it is recommended to place cameras at all entrance and exit doors as well as in parking lots. Cameras installed outdoors are subject to vandalism and so it is advisable to use a combination of different types of cameras and prepare backup cameras to replace those that have been damaged. Take note that criminals may vandalize these cameras to hide their identity before committing a crime. Other areas to install cameras include lobbies and offices. Do not install cameras in places where there should be privacy.
Security surveillance systems today are designed to provide tasteful aesthetic features of a church. Some of these cameras are unnoticeable making people feel comfortable and not feel like they are always being watched. Many dome cameras can blend quite well with the design of a church or temple.
Many people go to church and synagogues to worship, and their safety should be a top priority. We have to accept the fact that churches are not free from the ravages of the society. Don't let your place of worship be the target for criminals. As they say, an ounce of prevention is worth a pound of care and so consider installing high quality and reliable church security camera systems.