Security In New York City After Pipe Bomb Attack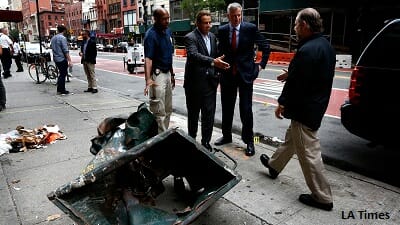 A would-be suicide bomber detonated a pipe bomb that was strapped to his body in one of Manhattan's busiest subways on Monday. Thousands of commuters were forced to flee the passageways and Midtown was brought to a standstill as authorities arrived on the scene. Five people were injured in the attack.
New York City is one of the most populated cities in the United States. With over 8 million residents and tourists, maintaining good security is no small task. After this week's pipe bombing attack from a would-be suicide bomber, security has proven its need to be a top priority more than ever.  Unfortunately, a city with such a highly concentrated population can make security difficult.  At Total Security, safety is our top priority.
Safety, however is not always the easiest task. The world we live in is filled with terrorism crime and national security breaches on a regular basis, with a new headline every day. Monday's attack is yet another reason to add to an already long list of why security cameras are a must have for New York City. It's possible that security cameras would be able to catch potential incidents and prevent them before they turn into tragedy. Even more so, what they are able to do is provide authorities with the ability to identify and catch criminals, by capturing critical footage in the event of an attack. Regardless in order for a camera to capture footage, it must be in place prior to any potential incidents.
Monday's attack was the third attack in New York City since September 2016. It was the second in two months just a few short weeks after eight people were killed in a truck attack along a bike path by the Hudson River.
The bottom line is while it is unlikely that security cameras will prevent all attacks on New York City, visible security cameras may deter some would-be terrorists or criminals. They will however, greatly increase the odds of identifying and catching suspects.
Be sure to LIKE our Facebook page for more great security tips, news and important information. For more information on security cameras to help protect your home or business, call Total Security today at: 516-882-1756.