3 Main Reasons Why You Should Hire A Professional To Install Your New Security System
Security systems and surveillance devices are the most popular when it comes to smart technology.  Homeowners, especially in a high trafficked state like New York, want a high end and affordable security system which means some decide to install the system themselves.  SPOILER ALERT: It's not the best idea!  If you are one of those DIY camera installation homeowners, this is to educate you on why you should always hire a professional installer.
Is less really more when it comes to Security Systems?
To start off, when installing their own security surveillance systems, homeowners start to limit the number of devices needed to save more money. One of the most common security devices that homeowners pick is a video doorbell.  Smart locks, video doorbells, and cameras should always be included in a security system, however, on their own are inefficient. Another common mistake made by homeowners is installing their security system cameras in one designated spot that gets the most "foot traffic". Remember that covering entrances is vital to a security system but not when that is the only place they are installed. For total security, there needs to be focus on the home as a whole like the driveway, garage, and backyard, not just the entry points.
Is your security system compatible with this generations technological advancements?
If you are still insisting on installing your own security system, the next thing that is important is to have compatible technology.  This will help save you time in regards to managing your security systems. Instead of switching out of different apps to control different settings, when installed professionally, you will be able to control your entire security system from one mobile app. For example, if someone knocks on your door but you are not expecting company, you log onto your mobile app to view who is there, speak to them, and let them in with the tap of a screen.
Location! Location! Location!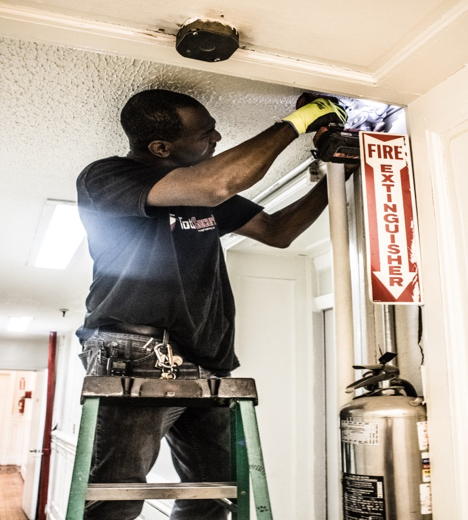 If you have yet to back down from the challenge of DIY Security Camera installation, there is one more important feature to discuss. Remember that saying, "Location! Location! Location"? Well, location isn't only important to the Real Estate industry. Professional installations involve surveying the property to ensure that the camera positions and angels are placed strategically.  If you are placing motion sensor monitors it is important to place them in hallways and entry points. However, with a professional security system installer you can have them program the motion sensors to not go off if house pets get in the way.
Placing security surveillance cameras is just as important as placing motion sensors as you need to focus on the vulnerable areas. You want to be able to capture all "foot traffic" on your property at entry points and family living areas. A professional will also make sure to have the backyard, perimeter, and garage covered as much as possible to ensure the capture of any suspicious activity. If these are all placed correctly then it will help to put a stop to any suspicious or illegal activity before anything detrimental happens.
According to the FBI, a burglar strikes every 25.7 seconds in the United States with 17% of these homes equipped with security systems. While most believe that installing their own security system is faster and easier, it is in reality a very time-consuming task. Once a homeowner realizes the time it takes to install a security system correctly, they usually opt to have a professional come and install. They ensure that the cameras, motion sensors, and the rest of the system is installed properly and up-and-running.
In addition, professionals also take the time to teach homeowners how to use the system properly and troubleshoot if needed. Professional security installation companies can offer you eyesight, impeccable knowledge, and ample amount of experience.
---
For the DIY Security Camera installers – Don't get frustrated.
Call us when you are done trying to install it yourself! 
New York #

(516) 775-2304
New Jersey #

(201) 954 -SAFE
---
Citations:
Insurance, Pekin. "5 Of the Worst Business Security Camera Placement Mistakes." Blog.pekininsurance.com, blog.pekininsurance.com/business/worst-security-camera-placement-mistakes-criminals-want-you-to-make.
Kaysen, Ronda. "Do Security Systems Make Your Home Safer?" The New York Times, The New York Times, 22 Dec. 2017, www.nytimes.com/2017/12/22/realestate/do-security-systems-make-your-home-safer.html.
"Pro-Installed vs. DIY Home Security Systems." U.S. News & World Report, U.S. News & World Report, www.usnews.com/360-reviews/home-security/pro-installed-vs-diy.
Rebecca Edwards. "8 Surprising Home Burglary Facts and Stats." SafeWise, July 2020, www.safewise.com/blog/8-surprising-home-burglary-statistics/.