Total Security Successfully Completes Access Control System Installation At Queens Medical Facility
Client: Queens Medical Associates
Building Type: Three-Story Healthcare/Medical Facility with Multiple Treatment Areas and Corporate Offices
Start Date: March 15, 2017
Completion Date: March 31, 2017
Location: 176-60 Union Tpke, Fresh Meadows, NY 11366
Client Overview: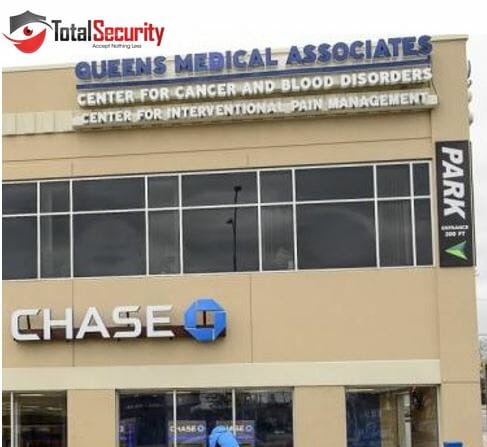 Queens Medical Associates, situated at 176-60 Union Tpke, Fresh Meadows, NY, is a physician practice offering a variety of treatments and medications for a wide variety of Hematology and Oncology conditions and ailments. QMA is a three-story medical facility which includes various treatment areas as well as corporate offices. After going through a rigorous review and pre-planning process, Total Security Integrated Systems was contracted by the facility to design and install new access control and burglar alarm systems.
The Challenge:
Beyond designing & installing a cost-effective 21 point access control system tailored to the facility's unique security needs and completing installation in a short timeframe, being able to perform the installation without disrupting the facility's daily operations was a challenge for the technicians. QMA is primarily a cancer treatment where dozens of patients are seen daily. The comfort and convenience of its patients are of paramount importance to Total Security, that's why they made sure important work was coordinated with the staff so that the installation process would not interfere with the patients' daily schedule.
The Solution & Unique Aspects Of The Installation:
Total Security installed a complete access control system with VMS to secure 21 various entry/exit points throughout the facility. The building is now equipped with a multi-keypad alarm system which can be monitored via the central station. The installed system will allow security staff to control and limit entry to critical areas of the facilities. For example, only those authorized personnel will be able to access their pharmacy and drug storage areas. Additionally, the access control and burglar systems installed at Queens Medical Associates are extremely secure and can be activated/deactivated depending to the defined control schedules.
Total Security is the leading installer of access control systems throughout Queens, Long Island, NYC, and the New York/New Jersey area. We offer FREE on-site estimates for healthcare facilities. Contact us today to help you create a custom-tailored security plan that will satisfy your medical facility's security needs.
Call (516) 775-2304 (New York location) and (201) 594-7233 (New Jersey location) to request a quote.