Homeless Shelters Need Security Too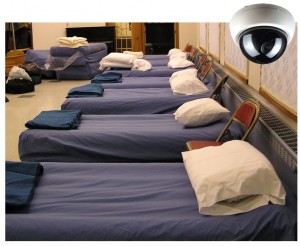 Today, because of the increasing number of crimes, video surveillance, and security cameras are being installed for the vigilance of every possible location, especially in homeless shelters in New York City and Long Island. New York has over 100 homeless shelters providing temporary shelter to homeless individuals or families who are struggling to have a shelter of their own. These facilities were built to provide assistance and protection to countless homeless men, women, and children.
In New York City, research shows that the major reason that homelessness occurs is the lack of affordable housing. Other reasons include job loss, eviction, domestic violence, and hazardous housing conditions.
Based on statistics provided by the Coalition for the Homeless, an advocacy organization helping homeless families in NYC, the number of homeless people sleeping each night in the city's municipal shelters is 91% higher than it was a decade ago. In March 2016, there were approximately 60,144 homeless people. Over 23,000 of these people were children who were sleeping in these temporary shelters. (Source:http://www.coalitionforthehomeless.org/basic-facts-about-homelessness-new-york-city/ )
Because of the high number of people living in these facilities, these shelters for the homeless are subjected to security threats and challenges. Shelters can be dangerous for both men and women, especially those vulnerable. Security cameras can help deter violence, for example, against women, many of whom may have left a situation involving domestic violence.
Is Safety One Of The Priorities At Your Shelter?
If you are managing a homeless shelter, installing a quality security camera system should be a priority. The installation of security cameras and alarm systems has been proven to be of exceptional help for different homeless shelters in New York. Below is a checklist for a successful security camera system installation.
Checklist for A Successful Homeless Shelter Security Camera System Installation
It is highly recommended to first do some research. This will help you identify the most appropriate type of camera system for your facility.
Identify the different locations where you need to install security cameras. It is recommended to choose cameras that are designed to work well in different types of environments. Install cameras that provide good visibility.
Ensure your facility has adequate power supply or outlets. Check the building for any potential power source problems prior to installation. If you opt for non-wireless cameras, a nearby power source should be available.
Lighting is another important consideration if you are managing a homeless shelter. If you want to monitor different areas at night, you must ensure these areas have enough lighting for your cameras to capture footages clearly.
Installing sturdy and weather proof outdoor security cameras are recommended.
If you are not confident about the information you have gathered, for peace of mind, seek the advice of a professional security camera system installer.
There are many options available for those who wish to install homeless security camera systems. Looking into the different options available in the market can seem overwhelming. Hiring an experienced security camera installation company will make the process much simpler.
Total Security has more than 10 years of experiencing helping shelters for the homeless create a safer environment. We are experienced in both indoor and outdoor security camera installations as well as alarm systems.
If you are looking to buy and install security cameras and security systems from a professional, reliable and experienced company, please come visit our new security camera showroom located at 206 Hempstead Turnpike, West Hempstead, NY 11552. Or, call us and we will help you out. See why the BBB gave us a top "A+" rating.
Remember, security is an integral part of all of our lives, including the less fortunate in an urban setting such as New York City. The existence of security camera systems has received tremendous appreciation from people of all walks of life and can help create a safer environment for all.
Read our Pacific House home shelter case study to see how Total Security helped improve the shelter's overall security.