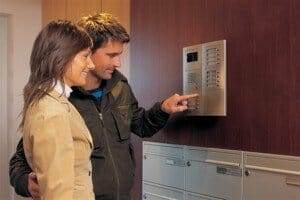 A commercial intercom system is one of the most common and helpful forms of security any business on Long Island, New York City or New Jersey can have in place. It allows you to safeguard your office and employees by giving you total control over who you allow into your building. This is especially important for businesses that receive high traffic from outside visitors or who own residential buildings and want to protect those living in that building.
Video intercom systems provide a significant gain in terms of both security and convenience for businesses including:
The ability to answer a video intercom call from your smartphone, tablet or computer anywhere.

Digital pan, tilt and zoom capabilities eliminating blind spots

Recording capabilities to store images with a time stamp of missed visitors – allowing you to see who tried to access your building during hours you weren't open.

Integration with additional entry alternatives, such as access control systems or security systems.

Link multiple entrances up to the video intercom system to reduce the number of security personnel needed in your facility.
At Total Security we can help you decide:
Which Audio/Video Intercom System You Need
Proper Indoor Monitor Location
A Package To Meet Your Budget
Free On Site Estimates!
CALL TOTAL SECURITY TODAY
Call
(516) 775-2304
today or
contact us online to request a FREE onsite estimate
. Total Security offers professional design and installation of intercom systems for commercial properties.
How Apartment Building Owners Can Create A Safer Environment For Their Tenants
As the owner or property manager of an apartment building, condominium or co-op complex the
safety of your tenants
is a prime concern. A
video intercom system
is ideally placed at the entrance of your building where it will allow residents to view who is trying to access the building, whether it be a friend, delivery person or maintenance repair person. These systems empower your residents to provide or deny access in the event they are unsure of who is trying to enter the building. If you own or manage a condominium or co-op complex, you may want to consider installing individual video intercom units at each door. This is especially ideal if you do not own a gated community and residents are not able to provide or deny access to the community.  An apartment building video intercom allows each tenant to see who is at the front door of the apartment building creating a safer environment for your commercial property. If you already have an audio intercom system installed, you may want to consider
upgrading to a video intercom system
for added security. When communicating with the visitor, the tenant will be able to control the volume and adjust the brightness on the camera for clearer viewing directly from the monitor inside their unit. Video intercoms provide 24/7 communications and provide the simple two-way communication that is as simple as the press of a button. Whether you have a large apartment complex with hundreds of units or a smaller one with a dozen or so units,
Total Security
can help. We offer color video monitors in varying screen sizes depending on your needs and preference.  Our video intercom systems for apartment buildings can be integrated with other security systems you have in place to elevate the level of security and monitoring of your apartment building. We can help you determine the best placement for your video intercom system for your apartment complex or condo or co-op community and will help create a package to meet your budget.
Call (516) 775-2304 today for a free onsite evaluation.
Additional Benefits of Video Intercom Systems for NYC Businesses
Know Who Is At The Entrance Of Your Business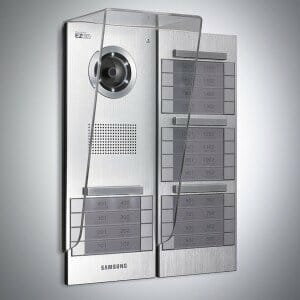 Video intercom systems are used to communicate by voice and video between remote points in a facility. Intercoms increase the safety and security of your commercial property or business, while allowing people in different parts of your building to communicate with one another and with visitors. Video intercom systems provide two-way voice communications and one-way video communications between points. In some systems, the user can have multiple remote points with a central communications monitor point allowing a single individual to receive calls from many locations.
Screen Office And Building Visitors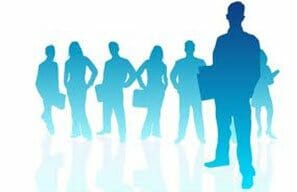 Regardless of whether you own or manage an apartment building or commercial office, the ability to screen your visitors means you have control over who does or doesn't get inside. For apartment buildings, residents are able to remotely unlock the door for guests using the intercom, rather than having to exit the apartment to let visitors in. In offices, employees are afforded the same level of control and are able to remotely allow for entrance into your building or office. This form of communication can easily be used to monitor requests to enter a facility and decide on access control.
Monitor Traffic in Your Building
Monitoring the traffic within your business or property is a common security concern. Intercom systems are a great way to keep tabs on just who is coming to your door at any time. Certain areas of your business may contain sensitive information, valuable inventory or even cash which you need to keep unauthorized visitors, and even employees out of. In the event unauthorized access is requested, you will be able to deny that request. Having a visual record of who has come into your building is a safety feature you shouldn't pass on.
Create a Safer Work Environment 

Protecting your employees and residents is always a top concern for anyone who runs a business. There has always been a need to protect people and assets limiting access to restricted areas or even main entrance. With an intercom system, you decide who gets in and who doesn't! At Total Security, we recognize the security issues faced by business owners and how an intercom system can help create and maintain a safe environment for your building.  Our Security Consultants are standing by, ready to help you develop a comprehensive solution that suits your business' individual needs. To learn more about how Total Security can help your business fill out the form below.
Suggested Video Intercom Locations for Businesses
Here are some of the building locations we recommend installing video intercom systems:
Primary door entrances

Secondary door entrances

Secured areas

Service areas

Delivery entrances

Private garages or parking lots

Entrances of multi-tenant buildings
Total Security Makes Your Business More Secure Than Ever By Keeping Unwanted Visitors Out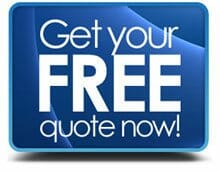 Commercial intercom systems from Total Security Integrated Systems help to manage security and safety challenges for business owners in NYC, Long Island and New Jersey. Total Security is a full-service
security systems installer
with over 15 years of experience in installing commercial audio and video intercom systems. We pride ourselves on our professional installations of
video surveillance cameras
,
alarm systems
, and
access control systems
for both commercial and residential customers. For more information on how we can help you improve the security of your business, please call us today at
(516) 775-2304
(New York location) or
(201) 594-7233
(New Jersey location).
We offer FREE onsite security evaluations.
Contact us today!
Video Intercom FAQs
Here are some commonly asked questions regarding commercial video intercom systems:
What is a video intercom?
A video intercom is an intercom system that allows you to both talk and see the person at your door. One or more cameras will be set up near the entry to your business which sends video feeds to a monitor, tablet or phone. 
What are the benefits of a video intercom system?
There are many benefits of a video intercom system for commercial buildings. This includes:
Providing an added layer of security to your business

You can see who is trying to access your office or building without having to get up to open the door, or try to identify their voice.

You can remotely access your video feed from anywhere on any mobile device.

You also have two-way audio communication with visitors.

Recording capability allows you to capture photos of everyone who rings the bell, or record video of all activity at entry points.
If my business has been closed for a weekend or extended holiday can I find out who tried to access my building while we were closed?
Yes! Not only can you access the feed remotely, but you can go back to stored feeds to see who previously came to your office or building during times you were closed. 
How easy is it to use a video intercom system?
They are very simple and very user-friendly to use! Our video intercom installers will set up and program everything for you and show you how to remotely access your feed. 
Service Area
Total Security provides video intercom solutions throughout the greater metro New York City area, including New York City, Manhattan, Brooklyn, Queens, Long Island, and New Jersey.