Is your business responsible for customs clearance, warehousing and logistics for companies around the world? If you are a warehouse, transportation, freight-forwarding and logistics company with facilities in New York or New Jersey, then you have a tremendous responsibility to store and transport a large volume of high-value global products from location to location.
Your business may provide freight forwarding, air and sea transport, supply chain solutions, or be accountable for warehousing products and goods as they move into and out of the United States. You are trusted by your own Customers to warehousing freight properly and meet all of the TSA guidelines, so that you can get shipments cleared through the correct channels without delay in Customs. Companies like ours know that keeping freight moving is central to your value proposition and standing out in your industry.
Our full sales, management and support team is ready to work with you. Call (516) 775-2304.
Secure Your Property, Investments, and Employees.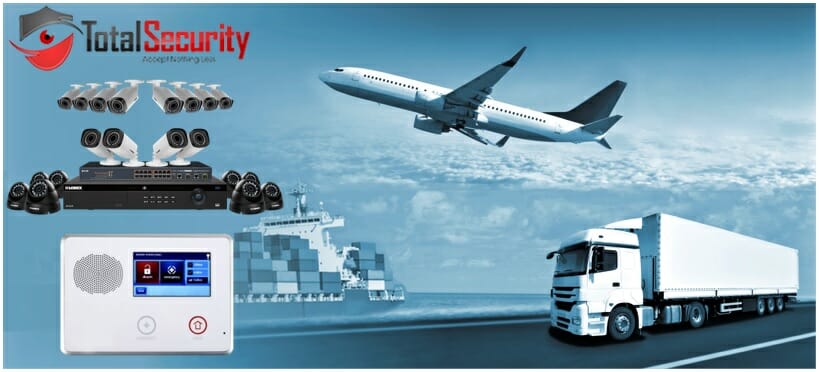 Insuring the safety and condition of cargo as it moves through warehouses is a top priority. We recommend that all business take advantage of our free onsite security evaluation, so that you can identify security gaps and improve your business. We will assess any potential threats, design a comprehensive security plan and implement this plan by installing a security system most suitable for a transportation and logistics environment.
Whether you need a new system designed and integrated or you want to upgrade your existing system, no company is more trusted than Total Security. We go the extra mile for every Client, and we know that details matter. The systems we design for you will be tailored to your exact needs, based on the most comprehensive site security evaluation available in the industry.
Total Security's Security Solutions
Surveillance Cameras
High-definition security cameras can protect your facilities by monitoring high traffic and sensitive areas. With an updated security camera system, you will be able to deploy your security staff more efficiently. The presence of surveillance cameras in warehouses and distribution terminals will also help deter possible theft and burglary. Total Security offers a wide range of video surveillance options and recording solutions to meet any business' security needs.
Fever Detection Cameras
Elevated Body Temperature (EBT) cameras, or fever detection cameras help provide a safer working environment for employees and reduce the spread of viruses. These thermal camera systems can be utilized to monitor the temperatures of anyone accessing a facility to prevent of the Coronavirus or the flu.
Access Control Systems
Installing card access and biometric systems can lessen premise liability by only granting authorized personnel the access to sensitive areas of the warehouse and logistics terminals. Total Security can help you choose the right access control system and install it at proper access points at your facility.
Intrusion Alarm Systems
Keeping your business safe and secure is Total Security's number one priority. We install the latest commercial intrusion alarm systems customized to meet the unique needs of your facility regardless of size.
Total Security's integrated security technologies will provide complete protection and full flexibility to the entire supply chain. This will allow you to focus more on other important business matters.
We Are The One Stop Security Systems Provider for One Stop Transportation and Logistics Providers Like You
Due to the sheer amount and value of products being transported, companies become targets, vulnerable to different security threats. Installing an integrated transportation and logistics security system can help mitigate the loss arising from theft as well as protect employees. It can also deter criminal activity.
Total Security has the experience and expertise in designing a comprehensive security plan, installing and servicing all types of security systems for warehouses, transportation and logistics companies on Long Island, New York City, and New Jersey. We have been a leading provider of commercial security systems which include the installation and maintenance of surveillance cameras, access control, and burglar alarm systems.
Can You Guarantee That All Freight Is Secure At All Times? Build Confidence In Your Security System with Total Security's Solutions.
Call today to take advantage of FREE security evaluation from an A+ BBB rated security systems company. For Long Island and New York-based companies, call (516) 775-2304 and if you are located in New Jersey, call (201) 594-7233.