An access control system allows you to restrict and monitor access to your building, facility, offices and other restricted areas to keep unwanted personnel out. There are many options to consider if you are interested in installing door access control systems in New York City. Total Security offers a wide range of customized, remote systems:
Keypad, Card & Fob Keyless Entry Systems
Biometric Access Control Systems
Visitor Management Systems
ID Badging Systems
Whether you need access control for small offices, large commercial buildings, retail stores, hospitals, schools or residential apartment buildings, Total Security can help create a security solution that will help create and provide a safe and secure environment for your employees, tenants, and physical assets in your building.
One of our security experts will work with you to create a security plan that is right for your building size and security needs. Learn more about our door access control system solutions for Manhattan, Queens or Long Island businesses by calling (516) 775-2304 today.

Card Access Control Systems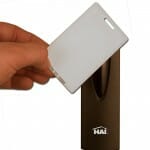 Proximity cards contain small radio transponders that identify the holder to the access control system. The "proximity" aspect is that the card only needs to be held near the reader to allow access. These cards fit in a wallet and are the size and shape of a credit card and can be printed with owner's picture for additional security. Total Security provides comprehensive installation of access control systems for businesses and offices in Manhattan and Long Island. We can order any brand upon request; however, we often install Honeywell, Keri, GeoVision, Kantech, and Linear products. Learn more about card access control systems or call (516) 775-2304 today.

Biometric Systems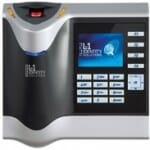 If you are looking for a higher-level security, look at biometric security devices. Biometric systems include fingerprint-readers and or key-pad and can be used for access control as well as time and attendance. Biometric access control systems use some part of the user's body for identification. Most commonly used is Fingerprint Recognition. These make for very powerful security access systems by combining them with other access control systems, intercom systems and security cameras. Learn more about biometrics systems here.
Why Do I Need An Access Control System For My Business?
Access control systems provide an added layer of security to your building by giving owners the ability to control who has access to their facility. Access control systems put the control into the hands of building owners or managers, allowing them to keep track of who is coming and going from their building. Additionally, remote monitoring allows building owners to check in and monitor their building in real-time for added assurance that all is as it should be.
Access control systems enable you to reduce security costs by eliminating the cost of need to hiring multiple security guards and providing your business with a cost-effective solution that protects your business. They also allow you to easily manage your security and limit access to offices or rooms from unauthorized personnel entering such areas. Another benefit is eliminating the need to change locks or re-issues of keys if an employee quits or if access to certain areas needs to be reassigned.
Today, access control systems provide detailed logging, including a timestamp of every event and notifications of activity. This helps to improve security, eliminate the use of keys and track the usage and flow of people around your building.
Additional benefits of access control system installation include:
Enable or revoke access rights instantly
Obtain real time monitoring of entry and exit points
Increase workplace productivity and efficiency
Reduced costs resulting from theft and/or property damage
Limit access to restricted areas to help meet health or safety requirements
Track frequency and location by specific users and visitors within your building
Provide alarm alerts upon unauthorized access
Remote 24/7 access control management via mobile
At Total Security, we recognize the security issues faced by businesses and buildings in Manhattan, Queens, Brooklyn, Nassau County and Suffolk County, Long Island, NY. Our access control system installers can help you develop a comprehensive security solution that meets your needs, whether you need a single factor authentication system or a complex, larger scale system. To learn more, fill out our contact us form here or call (516) 775-2304.
How Total Security Can Make Your Business More Secure
Access control solutions from Total Security Integrated Systems can help manage any security and safety challenges for businesses in NYC, Long Island and New Jersey. Total Security is a full-service security system installer with over ten years of experience in installing door access control systems and security camera systems. Regardless of the size of your business, Total Security has access control solutions that are designed to meet your specific needs. Access control systems can be installed on interior or exterior doors, gates and vehicle entry points and allow you to monitor who is entering each of these areas and when.
Call our support staff at (516) 775-2304 (New York location) or (201) 594-7233 (New Jersey location). We offer FREE onsite security evaluation. Contact us today! We serve all the five boroughs in New York City including Manhattan, Queens, Brooklyn, The Bronx, Staten Island as well as Long Island, NY.