Hotel Security Trends in New York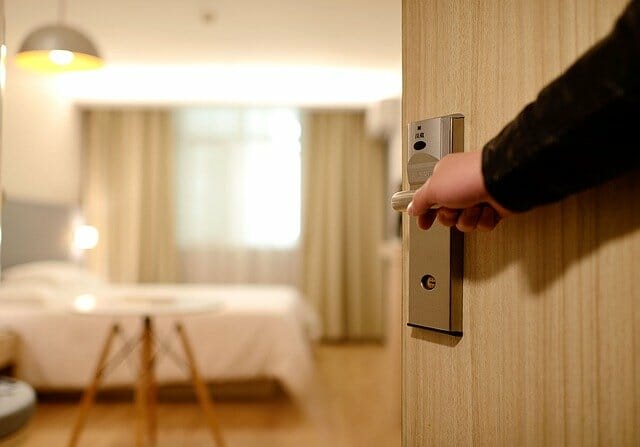 As technology grows, businesses like hotels in New York must keep up with those changes. A large part of working in the hospitality industry is maintaining the comfort of your guests, which often means ensuring they feel secure whenever they stay in one of your hotels or access your property.
Today, cameras, electronic door locks, and digital room safes are all amenities guests have come to expect. Without these basic security measures, you are not only putting your guests and their belongings at risk, but you will likely lose valuable business. 
How To Keep Your Guests Safe
Keeping your guests and their belongings safe requires an ongoing commitment on the part of hotel managers and owners and require them to invest in security trends that will benefit their guests. Here are some current security trends you should consider for your hotel, motel, or resort:
Behind the Scenes Security
Most of the security measures guests experience in a hotel is obvious, cameras by the reception desk, room safes, and restricted areas. But what about the security they can't see? The daily operations of a hotel require a lot of behind the scenes security that should be able to sync with all of the security measures already in place. This includes security logs of what employees accessed offices or other secure areas, incident reports, security patrol logs, inventory tracking, and the ability to monitor your hotel remotely even when you aren't on-site. All of these technologies should work to not only make your hotel more secure but to also run more efficiently.
Implementing Security Measures for Your Employees
In the last few years, an unfortunate trend has found that more and more hotel employees – especially housekeepers were victims of sexual assault by hotel guests. According to a recent survey by a hospitality labor union, more than 55% of hotel workers said guests have sexually harassed them. Furthermore, 56% of those hotel workers reported that they no longer felt safe on the job.
The installation of additional security cameras can be extremely efficient in deterring a would-be attacker, and in the unfortunate event of an assault can provide credible evidence to the authorities. 
Preventing Public Shootings in Hotels
In the wake of the mass shooting in Las Vegas, this is another security measure hotels must now take into consideration, especially popular hotels that have high levels of foot traffic, and high turnover. Again, security and surveillance cameras are both a great deterrent and way for security and hotel managers to actively monitor a situation and immediately alert the authorities in the event of an incident. However, some hotels have decided to take things a step further and implement metal detectors or require guests and their luggage to be examined by security with the help of a handheld wand to detect potentially lethal weapons. 
Total Security Is An Expert In Hospitality Security on Long Island & NYC
Here are our top reasons why you should have cameras installed in your hotel:
Improve security for guests and their belongings

Help monitor the activities of employees, guests, and delivery drivers

Help discourage and prevent or record break-ins and vandalism

Prevent sexual harassment of your employees

Deter and prevent mass shootings on your property

Decrease the odds of theft of valuables being taken from cars parked in your lot or parking garage

Decrease your liability as a business owner 
Implement and Install A Hotel Security System Today
Total​ ​Security oversees the entire process when installing security systems for hotels, motels or even resorts from the initial installation and monitoring to continued service and maintenance. We offer all of our clients with free lifetime technical support and are always on call in the event of an emergency.
Total Security is the most trusted name in the industry when it comes to hospitality security. An A+ Rated security company by the BBB with over 15 years of experience providing security services and products​ ​to commercial properties and businesses throughout Long Island, NYC, and New Jersey. ​ ​​
Call​ ​our​ ​support​ ​staff​ today ​at​ (516) 775-2304​​ ​(New​ ​York​ ​location)​ ​or 201-594-7233 ​​(New​ ​Jersey​ ​location) for your FREE security evaluation. Installs security cameras for hotels or motels within one week.