Restructuring Your School's Security Before The New School Year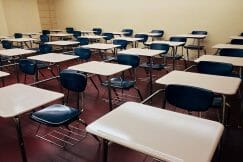 As a school administrator, the security of your school is one of your top priorities. However, during the school year it can be difficult to take the time to fix or upgrade your school security systems. This summer is the ideal time to do this. The kids are out of school, there is minimal staff onsite – which means you can easily upgrade the system without disturbing class sessions.
The unfortunate reality all school administrators face these days is that violence in schools is increasing. In fact, a report by the Gun Violence Archive, has found that there have been at least 239 school shootings since the shooting at Sandy Hook in 2014. This is on average 59 shootings per year since then. Additionally, CNN reported in February 2018 that there had already been 23 school shootings in the new year, which at 21 weeks into 2018; this averaged out to more than 1 shooting a week.
These numbers are not ones school administrators can take lightly or ignore. Violence in general has increased tremendously over the years and the approach to protecting your students, teachers, staff and administrators has to be re-evaluated regularly to ensure it is both functioning and up-to-date.
But what does a good school security system look like? Our recommended security systems for schools include:
Video Surveillance Camera Systems

– These will allow for complete monitoring, wide coverage, and the ability to record all surveillance elements across various school buildings and locations simultaneously. They allow administrators to verify who is inside the building and alert staff of any suspicious behavior. Having high-resolution security cameras installed also allows administrators to continuously monitor students and staff throughout the hallways and across school property.

Access Control Systems

– An IP-based access control system is needed to help prevent unauthorized individuals from entering the school. When installed together with school security cameras, this system efficiently captures and records all access events. It is also important to consider installing an electronic Access Control System, which can prevent unauthorized entry by anyone looking to engage in illegal or potentially violent activities on school property.

Biometric Locks

–  Having biometric locks installed allows administrators to set time sensitive points of entry that coordinate with school entry and exits, like at the beginning and end of the school day. They can also function to keep students out of restricted areas in the building.
Now is the time to put the work in to create a safe environment for your schools today. ​ ​Total​ ​Security has over 15 years of experience in installing video surveillance systems and providing security services and products​ ​to schools across Long Island, NYC and New Jersey. ​ Contact​ ​us​ ​today​ ​to​ ​learn​ ​more​ ​about​ ​our school security​ ​services. ​ ​Call​ ​our​ ​support​ ​staff​ ​at​ (516) 775-2304 ​(New​ ​York​ ​location)​ ​or 201-594-7233​​ ​​(New​ ​Jersey​ ​location).