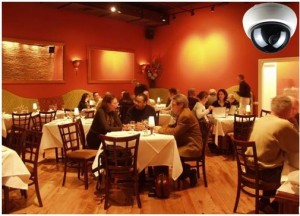 Restaurant owners across New York experience a wide range of security challenges on a daily basis. Restaurants often have a large amount of money at their locations, including cash, and they are an easy target for criminals. Even if theft does not occur, many restaurants lose money through vandalism, robbery, and employee and customer theft. Installing a quality restaurant security camera system can significantly improve overall safety and reduce profit losses that occur from both external and internal threats.
Every bar or restaurant's needs will be different when it comes to safety. When preparing your restaurant security plan, you have to consider the location, opening hours, type and size of your restaurant. You also have to identify the areas where security surveillance cameras should be installed. These areas should include customer dining areas, cash registers, kitchen, and parking lots, to name a few. Remember that installing a quality security system at the right places can considerably improve the safety and security of your customers, employees, and the business itself.
One of the core ways that a security installer will help you is in identifying a cost effective plan that maximizes your security while only installing what you truly need.  A reputable company will evaluate your property, present a plan to you, and walk you thru their decision process until you are satisfied.
For immediate assistance, call (516) 775-2304 or fill out our form on this page.
Benefits of Installing Security Cameras in New York Bars & Restaurants

Asset Protection – installing security cameras can help you monitor areas where cash transactions take place and where inventory is being kept. It will help prevent shrinkage while protecting your money.
Theft Prevention – Security cameras can help prevent employee theft as well as prevent those customers who dine and dash, who leave without paying.
Employee Security – The security of your employees should also be prioritized. You have to make sure they are protected at all times and ask their assistance in enhancing the overall security measures of your restaurant. It is also important to keep them informed about the security procedures that must be followed in the event of a violent crime, like armed robbery.
Crime Deterrent – Fights are common in restaurants and bars. Surveillance cameras can help prevent fights and in the case of violence, it will help identify the responsible individuals.
Remote Monitoring – Installing IP security cameras will let you access footage over the internet, giving you the option to monitor your restaurant or bar at the comfort of your home. This is perfect if you are running a chain of restaurant.
If you own or manage a bar or restaurant on Long Island and NYC, Total Security Integrated Systems has the solution for all your security needs. We have significant years of experience designing an effective security plan and the installation of different security systems that meet the unique needs of bars, nightclubs, and restaurants.
Our skilled security camera installers are among the most knowledgeable, qualified and reliable in the industry. We utilize the most updated security technologies and only install quality security cameras and alarm systems such as:
High Definition Security Cameras (we install top brands)
Wireless/IP Security Cameras
High Definition Cameras and Security Systems
CCTV Cameras (Closed Circuit)
Analog Cameras
Commercial Intercom Systems
Burglar Alarm Systems
Access Control Systems
We can help you create a more secure restaurant through the installation of both indoor and outdoor surveillance cameras, as well as burglar alarm systems. Our restaurant security system products and installations will ensure your overall safety — helping you reduce theft, vandalism, and shrinkage while protecting your valuable assets.
To learn more, please come visit our security camera showroom located at 206 Hempstead Turnpike, West Hempstead, NY 11552 or call us at (516) 775-2304.