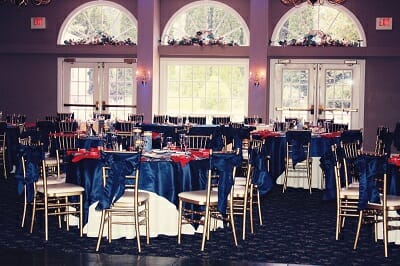 New York is home to hundreds of catering halls, especially on Long Island and in New York City. Big catering hall celebrations for weddings, anniversaries, Sweet 16s, Bar and Bat Mitzvahs and more are ingrained in the culture of those living in New York and New Jersey, which means catering halls should be a safe place for people to gather.
As a business owner, you need to protect yourself from potential employee theft, ensure customer service is being performed at the level you require and safeguard yourself from any false insurance claims.
Security Challenges at Catering Halls

Catering halls face their own special set of challenges due to the high volume of people passing through on a weekly basis. From office employees, wait staff, kitchen staff, delivery drivers to potential clients, catering halls see steady traffic all throughout the week and even more on weekends. The high turnover of people, presents a challenge for business owners when it comes to monitoring those passing through their premises as there are many places in a catering hall that a business owner needs to keep a watchful eye on.
The coat check-in, liquor storage room, walk-in box refrigerators and cash registers are just a few high-risk areas for employee theft. Beyond that catering halls often require monitoring of areas like the hostess stand, entrances and exits, delivery entrances, kitchen, lounge areas, parking lots and the valet drop off and pick up area. This exhaustive list exemplifies the importance of security in such an establishment.
Furthermore, catering hall business owners need to protect themselves from insurance liabilities in the event of an accident from either a staff member or guest, they also need to protect their assets and ensure food, liquor or any other valuable isn't stolen or taken off premises. Slips and falls on the dance floor by a guest, or a slip in the kitchen by an employee require video footage in order to identify fault for potential insurance claims, as well as to weed out any false claims. Prevention is far more cost effective and the best way to safeguard your business and establishment.
Here are 3 catering hall security solutions that can help protect your business:

Video Surveillance Camera Systems – This type of security system enables complete monitoring, wide coverage, and the ability to record all surveillance elements in various locations simultaneously. They help verify or invalidate insurance claims, alert management of any suspicious behavior and identify theft. Installing high-resolution security cameras enables business owners to continuously monitor large groups of guests during events, as well as staff. They also help identify any customer service issues among your staff and ensure you are able to maintain a high level of service to your guests and clients.
Access Control Systems – An IP-based access control system is ideal for preventing unauthorized individuals from entering restricted areas such as offices, walk-in box refrigerators and food or liquor storage rooms. If installed together with security cameras, this makes it efficient to capture and record all access events. Biometric locks can be installed and set to be time sensitive to coordinate with employee shifts, and they will only allow authorized individuals to access certain offices or approved areas of the building.
Alarm Systems – Catering halls face the risk of food, alcohol and money being stolen from cash registers, bars, kitchens and other restricted locations. Intrusion alarm devices together with CCTV cameras can decrease theft risk. This type of security system allows monitoring of all cash registers, offices, bars and other restricted areas for unauthorized entry, especially during business hours when an event is not occurring. Once the intrusion detector device picks up unauthorized entry, business owners will then be alerted and have the ability to apply appropriate response.
Taking advantage of the latest security solutions for event venues and catering halls in New York and New Jersey, provides high level of security for both your guests and staff, as well as allows the management to be more productive and proactive in limiting any security challenges in this busy environment.
How Total Security Can Help Improve Catering Hall Security
Solutions from Total Security Integrated Systems can help manage any security and safety challenges for catering halls in NYC, Long Island and New Jersey. Total Security is a full-service security systems installer with over 15 years of experience in installing catering hall security cameras and access control systems.
We pride ourselves on professional installations and maintenance service of security cameras, video surveillance cameras, alarm systems, and access control systems for commercial and residential buildings.
Call our support staff at (516) 775-2304 (New York location) or (201) 594-7233 (New Jersey location). Contact us today!