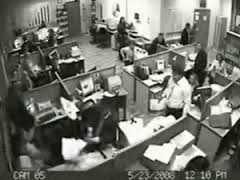 Given the number and density of small and medium sized business in the New York City area, as well as the rising population and continual urbanization of what were more residential areas, we at Total Security are seeing a rise in the demand for office security camera installations.
If you run a business in Manhattan or any of the 5 Boroughs, and you have made a collective decision that you want to have office security cameras installed, then you have not only made your business potentially safer but have potentially guaranteed an increase in your profits as well—because better monitoring helps prevent theft, leakage and "shrink" in offices, as well as petty cash.
Increase Profits While Reducing Office Theft: Install An Office Security Camera System
With security systems ubiquitous, still many offices and industrial setting offices do not have proper surveillance systems installed. Nonetheless, it has been proven that security cameras will increase production rates as employees who know they are being watched tend to work harder. Here are some other incentives to have security cameras in your office:
Cut Down Employee Theft: Again when employees are being watched it will reduce theft in your office dramatically. Most employees are ethical and law-abiding. However, as your company grows in size, regardless of your background checks performed, it is normal to recruit an employee who will later commit theft. Security Cameras act as a theft deterrent and they are part of a larger security solution, which includes everything from hiring carefully to managing people and creating the right company culture.
Protect Against Outside Theft: Offices are often targeted by criminals who might be looking to steal high-end electronics, cash or in some cases, metals and other valuable objects, even machines. Crime is deterred if someone targeting your business knows you have security surveillance in and around your property. This can also act as a deterrent from janitorial staff or other employees who tend to work in after-hours positions.
Protect Against Insurance Fraud: We all know when you own a business we need insurance for various reasons. Having workman compensation and limited liability can protect your company from injured employees and lawsuits. If someone gets hurt in your office or office property, it would be beneficial to have proof of this whether it is an employee or someone visiting your office.
Protect Your Employees and Property: Your employees will feel a bit safer if your office provides security cameras in the outside parking area (including exits, entranceways, pathways, and staircases to name a few). Outdoor security cameras used outside office buildings are very advanced in their capabilities, providing extremely high resolution and pinpoint accuracy with capturing small details such as license plates and facial details. Using cameras, you will also be able to protect your property against vandals as they don't want to be caught for their misdeeds.
Have Recorded Proof: If a theft does occur in around your office, you will have recorded proof. Many surveillance cameras now have their feed stored in "the cloud" for safety and access for remote viewing. Also, if your security cameras are in the parking lot and have a clear view of the street and crime does occur you may be able to help law officials with critical evidence to solve a crime.
Effective Time Management: If you set up your security cameras at key parts of your office you might start picking up patterns in your employees of how they perform from day to day. You might find creative solutions to take time management into consideration to help save minimize wasted time.
Know Who You Are Letting In: It's common that when you have office cameras to also include an intercom system as well for added security. If there are unwanted guests outside of your office, you can simply tell that person that they are not welcome at your property for whatever reason.
Your Next Move: Contacting A Local Office Security Camera Installations Company

Now that you've seen all of the benefits of having office cameras, isn't it time for you to find a professional team to install them at your office?
With over a decade of experience and a perfect BBB rating, we encourage you to reach out to our team to help design and install a system that makes sense for you.
Total Security not only gives you security camera solutions to fit your budget but has a wide variety of other security solutions from biometrics to GPS. Contact Total Security at (516) 775-2304 or fill out our Contact Us form for your free onsite estimate and to install your office security cameras today.
Client Testimonial
"We hired Matt and Total Security to setup a camera system for an office building. Total Security made the process extremely easy. Total Security made it easy to make decisions narrowing down what systems would work best for us. They are extremely professional and accommodating. They did a great job with the service and installation. Whenever we had a question, Total Security was more than willing to help. We highly recommend their service."
– Miles M.