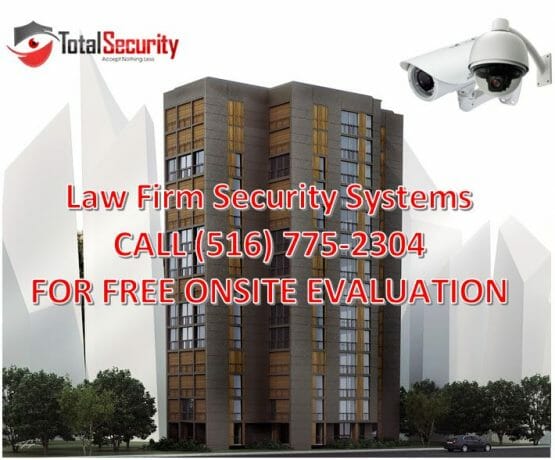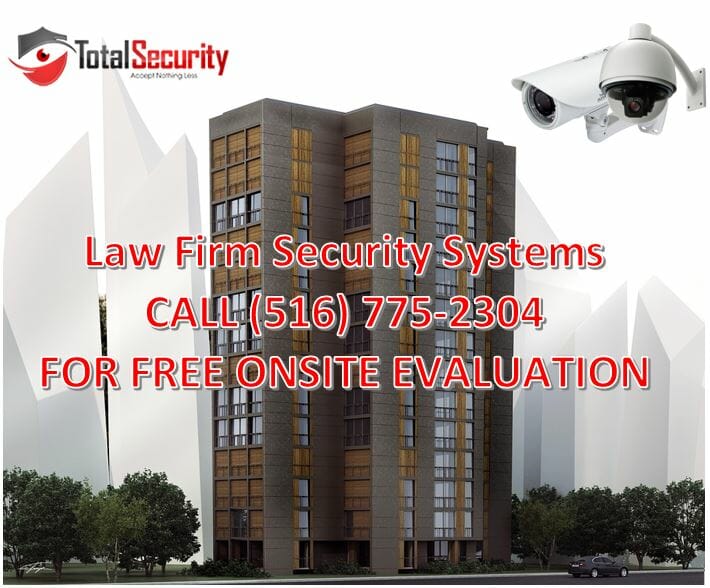 Like any other business or office building, law firms on Long Island, New York City or New Jersey need surveillance systems in place too. Total Security offers different security systems solutions for law offices to help them create a safer environment for partners, counsels, associates, paralegals and all other support staff, so they can focus on what's important – their clients and getting the job done.
Many large firms, face the issue of having a large employee base, interns that may only be with them for a short time and a vast rotation of clients and other visitors who may need to have access to certain areas of the office building. Due to the sensitive nature of work, law firms may also want to restrict accessibility to rooms containing confidential files, ensure certain employees can only access the office during business hours and only access the rooms they need to access.
Total Security recommends the installation of surveillance cameras and access control systems in busy large law firms to help reduce the threat to office property and deter potential crimes. This will enable security personnel to monitor ongoing activities within the property efficiently. Security cameras allow owners and security personnel to secure certain areas of the building that may not be visible from the main area such as elevators, stairways and file rooms. They also help monitor a high volume of visitors, track employee working habits and are an effective tool to reduce employee theft.
Total Security, for over 10 years, is able to create safer office buildings through the installation of high quality security cameras as well as access control systems. We offer FREE on-site security evaluation for law offices on Long Island, New York City and New Jersey. Contact (516) 775-2304 today to speak to one of our security experts.
Law Firm Total Security Solutions
Security Cameras – Law firm security cameras will allow you to monitor who is accessing your building and certain rooms or offices. Should a security incident happen, recorded surveillance footage with high definition cameras is an essential tool to help track responsible individuals.
Card Access and Door Access – When paired with a security camera system, door access control and intercom systems are very helpful. These systems will only allow authorized individuals to access certain parts of the building, helping to secure sensitive information and prevent data breaches. Certain locations can also only be accessible for those employees who have the clearance to do so.
Biometric Locks – These locks can be set up to be time sensitive for business hours, and be made so only their biometric data can open secure offices or rooms containing confidential files. Biometric locks get rid of the need for keys and traditional passcode keys. Software companies also offer law firms the tracking of biometric data for sensitive security situations.
Furthermore, the installation of security cameras and access control systems for law firms will help save money. An integrated security system will help by saving on employee wages since it will limit the need for extra security personnel to supervise less trafficked areas.
Another benefit to installing access control and intercom systems is their ability to be customized according a law firm's security needs. When it comes to law firms, security is always a top priority. Protecting your staff, visitors, confidential files and physical property is imperative in order to ensure workflow operations are not disrupted. It is also important for firm owners to regularly assess existing security systems and ensure that they are up-to-date. To get the most effective security and protection possible, consult a reliable and experienced security systems company.
Total Security is an A+ BBB rated company with over 10 years of experience in installing law firm security systems and cyber security systems on Long Island, NYC, and New Jersey. Our technicians and security experts are among the most knowledgeable in the industry. From start to finish, we will work with you in designing, installing, maintaining and repairing any existing surveillance camera systems.

Contact Us For A FREE On-Site Security Evaluation
Contact us today for a FREE onsite quote. Please call (516) 775-2304 for Long Island & New York City security camera installations or if you live in New Jersey, please call us at (201) 594-7233. Total Security will design, install and help you manage any type of security systems for law firms. Call us today!