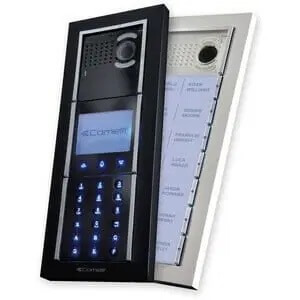 Total Security Integrated Systems is Manhattan's #1 professional, full-service provider of intercom system installations and electronic premises surveillance and security solutions.

With more than 20 years of experience, serving thousands of locations, we have been able to create safer environments for both commercial and residential customers in NYC. Our intercom security systems have helped businesses ranging in size from small local merchants to large enterprise-level organizations and government agencies. Regardless of industry, location, or size, we have helped our clients significantly improve their security systems and meet your changing needs.
Have an immediate need? Please call (516) 775-2304 or fill out our form to request a free onsite estimate.
Common Reasons You Need an Intercom System Installation or Replacement
Old, out of date systems (30-40 years or older): often, a building manager or owner understands that their system is quite old, and in many cases, you are looking to adapt with the times. You are requesting an upgrade in this scenario. We do our best to re-use all possible wiring.
If you have an audio only intercom system and want to now have video and audio in your intercom system. This is a new intercom system installation or replacement. You used to only be able to answer via audio from your own apartment. Now, with a video and audio intercom system you can be anywhere in the world and answer and let people in.
Something is broken and it needs to be fixed: In these cases there is often older or even faulty wiring. Something is broken and not working. You may not know what is wrong but you know it needs to be fixed (like a car with 300K miles). We can often use existing wiring to save you money!
You are a Landlord or manager looking to improve the amenities your building offers: as one of many amenities a landlord provides, you may choose to upgrade your system to offer tenants the best possible experience at your location.
Why Hire Total Security For Intercom System Installations in Manhattan
Total Security is proud of maintaining our BBB A+ Rating. Whether it's Manhattan Intercom System Installations, or another one of your services, we guarantee your satisfaction.
We take a proactive and prevention-focused approach to designing your system. We're committed to helping our customers succeed long term, and we are here for you now and into the future.
Lifetime tech support is included!
We have the ability to design, install, maintain and repair your entire security system quickly and with as little down-time as possible.
We understand that, as with any construction project, the original scope of work may change due to various and unforeseen circumstances. At Total Security we pride ourselves in our ability to adapt to changing environments and deliver on our promised results. Our intercom systems will not only dramatically reduce burglaries and other types of violent crimes, but we offer our clients full support.
Our professional and knowledgeable Security Consultants will assist you in developing a comprehensive surveillance and safety plan for your organization and will provide solutions based on your specific needs and requirements.
Our Foremen and Project Managers are some of the most experienced in the industry. They are able to not only oversee proper manpower utilization in order to keep the project on schedule, but they also can overcome installation issues as they occur. 
Our company-trained Security Solutions Installers are also among the most knowledgeable and reliable available to any organization.
Unlike many companies out there, you receive support even after your installations are completed.
And while other security equipment vendors may only supply cameras, we have our own technicians, our own fleet of trucks, a full office staff.
Oftentimes, when a company installs an Intercom system or any type of system, customers are often left to fend for themselves.
Request an Intercom System Installation Today
Our Manhattan Intercom System Installations include:
Video/Audio Intercom Systems
Audio Only Intercom Systems
IP-Based Intercom System
"Virtual Doorman" Type Intercom Systems
Telephone Entry Systems
Have a need that is not on this list? Give us a call at (516) 775-2304 to discuss your options.
Why A Video Intercom Is the Best Choice
A video-capable intercom system will always be the best choice because it allows the tenant to communicate with the visitor both audibly AND visually.  Being able to actually see who is asking for entry adds a layer of security that Audio-only intercom systems cannot provide.  This is especially helpful in buildings that do not have a concierge or security guard.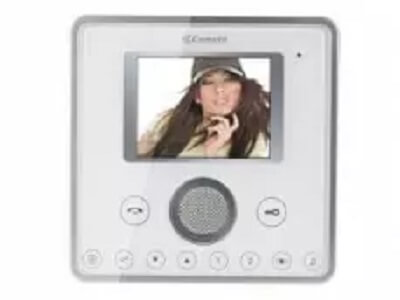 The Intercom Installation Process
Our installation process is dependent on the type of intercom and scope of work.  We do everything possible to limit disruption to your building.
When we can re-use your wiring: Most intercom projects in NYC are "retrofits", or upgrades to existing older intercom systems.  With technology that allows us to reuse the existing intercom wiring, the installation not only becomes more cost-effective, but also very non-intrusive to the building.  Usually, the biggest challenge in these types of installations is coordinating our being able to enter the tenant's apartments. 
When we need to put in new wiring: With IP-based systems the Manhattan intercom installation process is usually more complex because new wiring (Cat5/6) needs to be installed.  Additional IP-based hardware is also needed.  The complexity of these types of installations comes from the scope of work. 

As an example:  If the building only wants the tenant to be alerted via their mobile device, the installation will mostly only require a main entry intercom panel wired to an internet gateway.  However, if the building requires that each apartment have internal intercom stations, new wiring would need to be run to each apartment from the central control location.  This would obviously be very labor-intensive.
How to Select an Intercom System Installer in Manhattan
Not all companies are alike. So, here's what to look for when selecting a Manhattan Intercom System Installations company:
Experience – how long has the company been installing intercoms?
What types of installations have they done?
What type of manufacturer hardware do they have access to? A company who says they install "tons of RING doorbells" probably knows very little when it comes to installing a complex professional intercom system.
What is the company's main business? – Are they strictly a security solutions provider, or is security just an add-on service they provide? Example – an electrician who "also installs security cameras and intercoms".
What is the company's service policy?
Our Process – How It Works
Step 1: Security Consultant has initial visit(s) with client to understand their needs.

Step 2: Detailed proposal with scope of work is put together and sent to client.

Step 3: In most cases, client needs to get Board Approval.

Step 4: After Board meeting, any questions are answered.  Revisions, if any, are made to the proposal.

Step 5: Client/Board signs off on Scope of Work.

Step 6: Installation is then scheduled.
Brands of Intercom Systems Total Security Installs
We install the following intercom systems:
Comelit
Standard wire system
IP-Based Systems
AiPhone
LeeDan
Mostly for budget-conscious, audio-only installations
Carson
For higher end "virtual doorman" types of installations
Butterfly
For higher end "virtual doorman" types of installations
Contact Total Security today to request a FREE on-site quote. Call (516) 775-2304 or request a quote online.
Intercom System Installation Case Study
We're delighted to be able to share one of our case studies.
Mount Sinai Health Systems / Residential
515 West 59th Street, New York, NY
Mount Sinai Health Systems is a hospital network located in New York City.  Their Residential division owns multiple buildings throughout the NYC area.  These buildings are used to provide affordable housing and incentives to the hospital network's clinical students and staff.
515 West 59th Street is a 33-story residential hi-rise with 465 units and 24-Hour Doorman service.
Multiple companies were considered, including a current provider. Total Security's Enterprise Division had several meetings with the Principals of Mt. Sinai and the building's management.
We drafted several Scope of Work proposals during our meetings. As with any project, the requirements will change when still in the design stage.  Working together, we were able to design a Scope of Work that addressed all of Mt. Sinai's concerns with regards to the building's intercom system.
In the end, Total Security was chosen because we were the most consultative security firm involved.  With the experience we brought to the table we were able to offer concrete solutions to the issues Mt. Sinai had communicated.
Contact Total Security Integrated Systems for a Quote
If you are looking to hire a local Manhattan Intercom System Installations company, accept nothing less than Total Security as your security installer. For a FREE onsite evaluation, give us a call at: (516) 775-2304.
FAQS about Intercom Systems