After School Security Tips To Teach Your Kids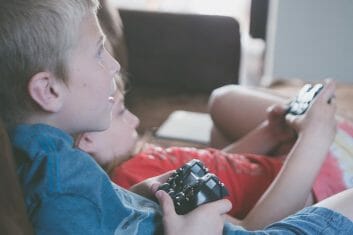 While all children should always be supervised by an adult, we recognize that there are times, especially when kids reach the high school age, from 13 through 17 years old, that it is more common for them to be home alone while parents are at work. If you are a parent with children who spend some time alone after school, regardless of their age and level of maturity it is important to ensure they understand how to stay safe while you are not home. Even if you have a security system in place, your children should understand not only how to use the system, but also what other security measures they should take.
Total Security has over 15 years of experience installing video surveillance and security alarm systems in homes across Long Island, New York and New Jersey helping keeping families and homes safe and secure.
Here are some tips for keeping your children safe when they are home alone:
Encourage them to lock the doors immediately after entering your home.

While this seems like an obvious step, it's important to continually reinforce this with your children. Remind them that they should go directly from the bus stop or school (if they are a walker) and go straight home.

Install a smart lock.

If you are uncomfortable with trusting them with a key, you can also install a smart lock and unlock the house for them remotely.

Remind them to never open or unlock the door for anyone.

Again, this may seem obvious, but continue to reinforce to your children not to open the door for anyone, not even someone who may appear to be safe like a mailman. You may even want to consider installing

video surveillance cameras

so you can monitor your home remotely.

Install an alarm system.

Having a

home alarm system

will give you a greater peace of mind that your children are safe while you are at work or running some errands. If you decide to install an alarm system, here are some things you should do:

Have it installed at a height your children can reach and teach your children how to use it.
Practice using it with your children so they understand how it works, and let them hear it go off so they understand what it sounds like in the event of a break-in.

Teach them what to do in the event of a break-in.

Go over what to do with them step-by-step in the event someone does try to break-in. Develop an emergency plan which may include calling the police, leaving the house immediately or a trusted neighbor that they can go while waiting for help.

Teach them to recognize the signs of a break-in.

Broken windows, an open door and ransacked living spaces are three of the top signs. Your children should be aware of them and have a family plan of what to do in the event they recognize these signs. This may include going to a trusted neighbor's house, or if they have a cell phone waiting outside and calling you immediately.
Regardless of how old your children are, it's important that they understand how to stay safe in their home. If your children spend time alone in your home after school, and don't have a security system installed already, call us today. Total​ ​Security has over 15 years of experience in installing residential alarm systems and providing security services and products​ ​to homes on Long Island, NYC and New Jersey. ​ ​​Call​ ​our​ ​support​ ​staff​ ​at​ (516) 775-2304​​ ​​ ​(New​ ​York​ ​location)​ ​or 201-594-7233 ​​(New​ ​Jersey​ ​location).