Security Systems for New York Schools: What You Don't Know Can Hurt You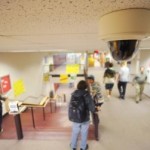 Educational institutions are meant to be safe places for children to grow and feel comfortable in an environment where they are encouraged to learn. Unfortunately, when school crimes or violence occur, the educational process is disrupted. This affects not only the individuals involved, but also bystanders, the school, and the surrounding neighborhood and community as a whole. Leaders in the New York education community realize safety of students and staff is essential for a successful learning environment. How safe is your New York school if it does not have proper security cameras, access control systems, or communications tools such as intercoms in place?
In general, the security of our nation's private and public schools has become a top concern and schools are using a variety of methods to improve security and reduce risks. For example, many institutions have begun by taking the simple step of locking doors and other entries during school hours. In fact, according to the Indicators of School Crime and Safety: 2011, during the 2010 school year 92% of public schools locked their doors during school hours and 46% controlled access to school grounds with locked or monitored gates. Additionally, 63% of public schools now have an electronic notification system for school emergencies in place. As these numbers increase year after year, so does the technology available to protect staff and students.
Unfortunately, despite basic security measures in place, schools of all kinds have fallen victim to crime and tragedy. Families and communities have experienced tragedies on a mass scale. We advocate for communities in the New York school system to pursue more robust security protocols and systems that can prevent acts of violence and limit harm to children.
Security Systems for New York Schools:
Security solutions ranging from classroom intercoms to enterprise level systems make it possible for optimal security at all times. With an endless amount of options it is simple to select the best system for your institution when you work with an experienced security camera systems company.
First consider, Access Control. On the most basic level Access Control is a way to control who is entering and exiting the premises whether it be a whole entire building or a specific classroom. Access Control can be considered your first line of defense.
Second, intercom systems not only outside the bulding but within all classrooms also allow for much more seamless communication. In addition, surveillance cameras inside, outside and around the premises allow you to ultimately protect and monitor your educational institution.
Considering the above statistics and recommendations, we recommend taking the time to create the appropriate security system for your school. Keeping children safe and fostering a harm free school environment is an important priority for our nation.