An intercom system allows you to restrict and monitor access to your building, offices and facilities, whether you are on Long Island or in the New York City area. Total Security is a leading security company and intercom installer specializing in installing, upgrading, replacing, repairing and maintaining audio/video intercom systems.
Whether you need an intercom solution for a small office, large commercial buildings, retail stores, hospitals, schools or residential apartment building Total Security can help create a security solution that will help create and provide a safe and secure environment for your employees, tenants, and keep unwanted personnel out of restricted areas.
When it comes to intercom security solutions, we offer:
Professional Intercom Systems Installation
Over 15 Years of Experience
Expert Advice
Free On Site Estimates
Learn more about our intercom systems installations by calling (516) 775-2304 today
Residential Intercom System
A Residential Intercom System allows you to safely identify a visitor before opening your door. When the doorbell rings, the unit will transmit audio & video to a monitor inside your home. Feeling safe and secure within the home is important to all family residences.
Learn more about residential intercom systems.
Commercial Intercom Systems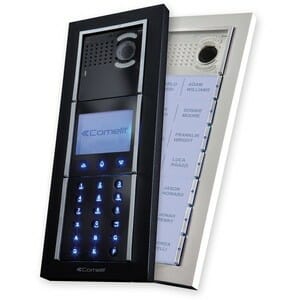 A Business Intercom Systems allows you to communicate between remote points in a facility. Intercoms increase the safety and security of your commercial property or business while allowing people in different parts of your building to communicate with one another and with visitors.
Learn more about commercial intercom systems.
Types of Intercom Systems
There are four main types of security intercoms homeowners and business owners can choose from, they are:
Hard-Wired Intercom Units:

These units are one of the most common types of intercom systems. They are usually professionally installed when a brand new property is being built. This type of intercom system is typically hidden inside the walls of a house. These intercom systems are more resistant to wear and tear, and external interferences. Additionally, the audio signal tends to be better, so you will be able to hear the person you are talking with more clearly.

Wireless Intercom Units:

These systems use different types of radio frequencies to send intercom signals within your property. They tend to be less expensive than hard-wired intercom units and don't require any type of installation. Usually, these intercom systems are battery-powered.

Carrier-Current Intercom Units:

The type of intercom system is less expensive than hard-wired systems and is integrated into the electrical system of a house or building. The intercom system will work alongside the electricity to have a conversation with the person in front of your door. These systems are easy to install and maintain. However, the audio quality might not be that as good as hard-wired intercom systems.

Automatic-Gate-Entry Intercom Units:

Automatic-gate-entry intercom system allow you to open a gate on your property when someone visits. This type of system can be very desirable since you don't have to be physically present at the gate in order to open it or close it. In most cases, automatic-gate-entry intercom units are also equipped with a small camera to allow you to see who is at the gate, as well as with an indoor video display, so you can see the visitor is. You will also be able to communicate with them through a speaker.
Benefits of Intercom Systems For Your Business
Intercom systems provide an added layer of security to your building by giving owners, managers and administrators the ability to identify anyone who is attempting to access their facility. Intercom systems can be audio only, or can also come with a video screen which provides an added layer of security. 
Providing your employees or residents with the ability to easily identify those wanting access to your building will not only improve security, but will also prevent unauthorized access. Whether you are running a medical facility with secure locations, an apartment building you want to limit access to, or have a secure business that sees a lot of foot traffic intercom systems are an ideal security solution for nearly any type of business. 
Additional benefits of intercom systems include:
Control access to certain areas of your building.

They are extremely versatile and can be installed anywhere in your building.

Improve communications between management and those granting access. 

They are extremely convenient and easy to use. 

Works well to compliment your other security solutions like security cameras, access control systems, or alarm systems.
One of our security experts will work with you to create a security plan that is right for your building size and security needs.
The Installation Process
Our installation process is designed to ensure your security system is installed efficiently and correctly, so you will have the assurance that both your family and property are safe. Here are the steps and what you can expect for your Total Security surveillance installation.
Accessing the Home or Apartment
First, the technician will need access to your home, or to the apartments in your building in order to install and wire the intercom system. At this time they will install the entry panel and if they are installing multiple panels, ensure that each one is properly wired to the correct button on the front entry panel.
Toning and Testing the Cables
During the install, the technician will also test the cables, which is the most important step. This is done to ensure the cables can carry voltage before the intercom panel is installed.
Installing the Intercom Station
Once the testing and toning is complete the station for the intercom will be installed. Typically, this will only take 15-30 minutes.
Installing the Head and Equipment
Once everything else is completed the power supplies and the modules must be installed. They will require to be plugged into an outlet or plug, and it's a good idea to put in a surge protector to prevent the equipment from degrading over time.
Total Security Intercom Systems Installations Can Make Your Long Island or NYC Building More Secure
From residential intercom systems for apartment buildings to commercial intercom systems for offices, schools, hospitals and more, our intercom system solutions are an efficient way to better secure your building and identify visitors.
Commercial intercom systems from Total Security Integrated Systems will help manage any security and safety challenges you may have for your home or business in NYC, Long Island, and New Jersey.
Total Security is a full-service security systems installer with over fifteen years of experience in installing commercial intercom systems. We pride ourselves on our professional installations of video surveillance cameras, alarm systems, and access control systems for both commercial and residential customers.
Free On-Site Evaluation Of Your Security Needs
Total Security is the perfect solution for all your security worries. Call us today at 516-775-2304 for professional intercom systems installation and upgrade.