CCTV and Security Camera Installation Company in Queens, NY

If you own a home or run a business in Queens, a local company such as ours will help you plan, design, and install a CCTV or security camera system.
It's not just about the security cameras. Though we only install high quality cameras. It's also about the company behind the camera installation.
Total Security is A+ Rated by the BBB. We have exceptional reviews. And we provide the most comprehensive security evaluation. We do all of this in-house with our own staff, trucks and installers. Our owner Matt DiMicco will speak to you personally if you have any questions. We will provide you a free onsite security evaluation.
"A quality, affordable security camera company that delivers extraordinary customer service. Accept nothing less."
Business Security Cameras in Queens, NY
Let's face it, the crime ratings are on the tipping point, so-to-speak — not just in New York, but all throughout the country. In Queens, NY alone, the crime rate is 13 per 1,000 residents, according to FBI crime data.
If you own a business with employees, their chance of becoming a crime victim has also increased. Installing security cameras for your business in Queens can help reduce theft, and other crimes helping you reduce financial risks. It will also give you the ability to keep track of your merchandise and your employee's work performance. However, it must be placed and installed properly by a highly-skilled technician in strategic locations.
If you have an existing security camera system installed, we recommend upgrading it to the latest technology. Contact us for a FREE security evaluation. We can help you find the right security solutions for your business in Queens, NY.
How about working with The Market Leader in Queens County security camera installations?
A company that has a storefront/showroom, its own company trucks and a full customer service staff to ensure that you will receive excellent service at all times. A company named as an A+ Service Provider by the BBB itself. That's Total Security. (516) 775-2304.
Product. Installation. Service. In-House Technicians and Service Staff. Everything You Need To Get The Job Done The Right Way The First Time.
New York State Licensed and Insured
A+ Rated by the BBB (recognized by customers as a Best Security Cameras Installer In Queens County, NY)
Exceptional Service and Warrantees
Reliable, Trusted, Prompt Security Camera Installers
Highly rated by customers with local references
Lifetime Technical support
Speak with the Owner directly
Request The Most Comprehensive Security Evaluations in the Industry


If you are looking to hire a trusted company with over ten years of Queens security camera installation experience, call Total Security for a FREE onsite estimate at (516) 775-2304. Before you choose a security system installer, we suggest that you ask them if they offer a comprehensive estimate and a security evaluation. Total Security's security audit includes how to position security cameras for optimal viewing, advice on proper lighting and trimming back hedges blocking windows where burglars tend to feel safe, and a host of other insights and helpful information to plan the most cost effective video surveillance system for you.
Our technicians then install the right security cameras that will meet and exceed your security program, at a very reasonable price. Our employees are clean, reliable and very trustworthy with a strong track record. And, our office staff is here for you for all of your service needs.
Types of Security Cameras That We Install In Queens. Better quality. Better pricing. Better results.
Total Security installs all brands, with a focus on quality brands. We install wired and wireless high definition security cameras and specialize in networked cameras (known as IP cameras). In fact the quality of the picture will be 400% better than the analog security cameras installed just 2 to 3 years ago.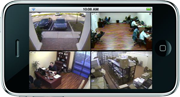 Remote monitoring, desktop monitoring and mobile Smartphone monitoring are easy 24/7. We were the original company to provide mobile friendly security camera integration and high definition cameras to the local market.
Although Total Security has built a strong reputation as installers of innovative security systems for the Queens commercial and residential markets, we have distinguished ourselves by providing exceptional, professional customer service.
Reviews on Security Camera Installation in Queens, NY
Totally Security's licensed, trained and knowledgeable security camera installers meet rigorous standards. Here is what some of our customers have said about them:
"Your installation did a beautiful job, clean, thorough, professional and polite on an exceedingly cold day."
"They are total professionals from the office to the field. When you go to their showroom in [formerly] Elmont they are so knowledgeable and really take their time to cater to the needs of your property. I must have asked 100 questions and they answered them all and without an attitude! True professionals. And when you do choose to use them their technicians are fantastic."
"The installers worked with me to make sure that everything was the way I wanted it. Excellent equipment. They were on time. I could not be happier. "
Types of Facilities That We Service with  Queens Security Camera Installations :
Single and multi-unit residences, homes, apartment buildings, condos, housing units
Commercial buildings, small businesses, warehouses, manufacturers, storage facilities
Nursing homes, assisted living facilities
Real estate management companies
Retailers, supermarkets and restaurants
Hospitals, health care facilities
Places of worship, temples, synagogues
Schools, Universities, private schools
Virtually any commercial or residential facility, both indoors and outdoors
We also work directly with property management companies in Queens to provide full-service security systems installations, upgrades and repairs.
Watch Our Videos:

Recent Queens Security Resources:
Is Your Queens Home Ready For A Burglar? 4 Key Security Questions To Ask Yourself (https://www.totalsecurityny.com/is-your-queens-home-ready-for-a-burglar-4-key-security-questions-to-ask-yourself/)
About Queens (https://en.wikipedia.org/wiki/Queens)
About Queens Village (http://en.wikipedia.org/wiki/Queens_Village,_Queens)
Queens Village Crime Map (http://spotcrime.com/ny/queens+village)
Contact Us:
Call (516) 775-2304 for an estimate or more information. You can also come and visit us at our Queens security camera showroom located at 206 Hempstead Turnpike, West Hempstead, NY 11552 [formerly 1389 Hempstead Tpke in Elmont, NY near Queens]. Surveillance Camera Professionals are ready to assist you.
See Above for More Information on Security Camera Installation Queens NY