New York Real Estate Management: We Cater to You with Security Cameras, Intercoms and Access Control Systems
New York real estate management security: Is your property secure?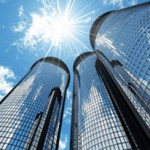 In this day and age when there is paranoia running rampant, security has jumped to the top of everyone's mind. As a building owner, or a property management company who manages property for others, the security of your property and its occupants is a high priority. Security cameras, intercoms and access controls play an important role in securing your property.
Purchasing and installing the following security systems for your properties will ensure that your property and its occupants will be safe:
Video surveillance systems using a digital video recorder are a proven and widely utilized surveillance tool. Security cameras operate 24/7 (even in the dark) and they can capture everything that transpires outside the premise or in common areas. Property damage can be traced back to a tenant in the building or acquaintances A major benefit of using a Digital Video Recorder is the camera system can be viewed via the internet to see EXACTLY what is going on without even being there. You can even allow tenants access to the cameras so that they can monitor the premise. Also, being able to record for a long period of time (1 month to 6 months) provides an easily searchable record of events if it's ever needed.
Access control is not just for the front door but can be used to restrict access to sensitive areas (e.g. the roof or utility spaces). Keys are easy to copy and there's little or no control of who has them or how many exist. Locks must be changed if there is a concern about keys falling into the wrong hands. With electronic control (card access or key fob) duplication is much more difficult, a record of access can be obtained if necessary, and changes involve little more than a few keystrokes at a keyboard.
Intercom Systems allow occupants to identify guests and control entry into the premise. Intercom systems help communicate to guests during the security entry process.