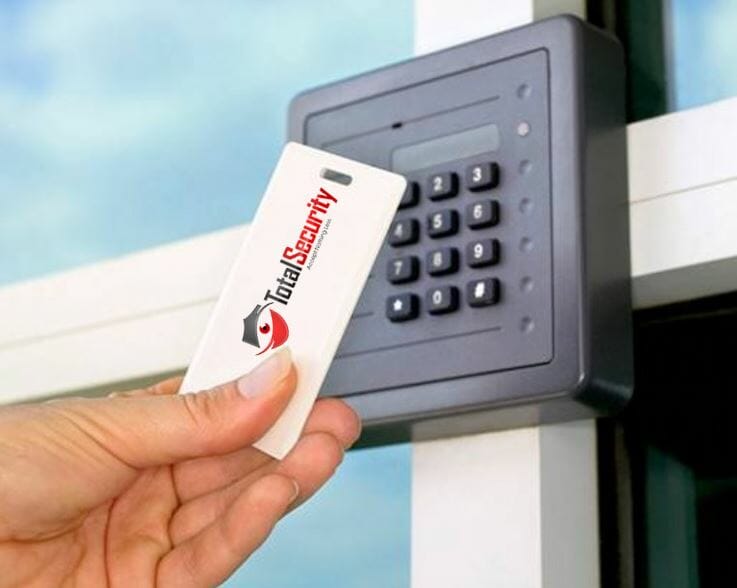 Wouldn't it be a great relief to have a security system that offers you full control over who is allowed to enter a restricted area within your building and when they can enter? You could monitor and restrict access to an office, apartment building, facility, warehouse or commercial building, and keep unwanted people away. And, you wouldn't have to worry about the standard lock and key entryways.
\We make this possible by providing customized access control systems such as ID Badging Systems, Visitor Management Systems, Card Access Control & Fob Keyless Entry Systems and Keypad Systems.
We are proud of keeping our clients' businesses safe and sound with our robust access control system installation in Suffolk County. Call Total Security at (516) 775-2304 to request your FREE site security evaluation.
Why Businesses in Suffolk County Should Install Building Access Control Systems?
If you own a business in Suffolk County, installing an access control system will give you complete control over your building's security system. An access control system enables you to keep track of every employee, vendor and guest that enters and exits your building.
Thanks to remote monitoring, you can now monitor and check in on what's happening in your building in real-time.
Different Types of Electronic Access Control Systems
Total Security offers the following options:
Keypads & Touchscreens
Keypads
A keypad is comparable to the keypad found on telephones. The keypad is typically mounted on a door near the door handle. Some keypads are labeled with a series of letters and numbers, while others just have numbers.
Before a guest is given access to a building (or a room) they must enter a six-digit code or a four-digit code. If the code is entered correctly, there is a tone notification or a clicking sound heard before the door opens. When a guest types in the wrong code, they are denied access instantly.
Depending on the keypad lock
you choose, some will contain a security feature that restricts the lock from opening for 10-15 minutes after entering the code incorrectly a few times.
Touchscreens
A touchscreen allows the visitor to connect with what is shown on a flatscreen device or a tablet instead of entering a code into a keypad. Once the correct code is entered on the screen, the visitor is given access to the building or a particular area within a building.
Biometric Readers/Biometric Access Control
Biometric access control systems are designed to capture and store biological data from people. Scanners are used, such as a fingerprint scanner that evaluates a person's fingerprints and stores them in a data file.
Biometric technology can be used to monitor access among computer networks, transportation systems, and even financial transactions. You can use it to verify an employee, guest, or tenant to avoid unauthorized people from accessing a building or protected area within a building.
The difference between access card systems, codes, password systems and Biometric-based systems is that you don't have to count on remembering codes or losing cards. Biometrics relies on who people are instead of what they carry around.
Remote Access or Smart Locks
What if you never had to worry about using a key again? The days of losing keys and replacing them would be long gone.
Smart locks make this possible.
A smart lock system is a keyless door lock that allows people to open doors without using a traditional key. You can control this system remotely with a simple smartphone app.
How it works…
A smart lock is connected to a WiFi network, which enables it to receive a smartphone command or the code to unlock or lock. You can monitor your front door, and control locking or unlocking your door with a voice command.
This home security technology offers peace of mind and a higher level of convenience.
Key Cards and FOB
Imagine if you were able to get your employees back and forth from their offices securely — without a hitch?
Electronic key card and key fob systems have made this possible.
What is A Key Card?
A keycard works like an ATM card. They come with an encoded magnetic strip or a microchip. The cards are coded by a 'check-in computer'. These cards can be easily activated and deactivated, which makes it almost impossible for a robber to grab a card and enter a building (or a room) within a building.
What are Key Fobs?
Key fobs are used along with an access control system. They are small, security tokens (the size of a coin) that can be kept inside a wallet or left on a key ring. Fobs can be programmed to manage entry throughout a building or through one locked door automatically.
Benefits of Installing Building Access Control Systems
Getting an Access Control System installed offers a few benefits:
Remote access control management 24/7 via Smartphone.
Revoke or authorize access rights immediately.
Boost employee productivity and efficiency.
Supply alarm alerts during unauthorized access.
Decrease costs caused from damaged property or theft.
Reduce access to restricted areas of a building to help fulfill safety or health requirements.
Monitor location and frequency by specific users and visitors within your building.
Acquire real-time tracking of exit and entrance points.
Additionally, installing an access control system saves Suffolk County businesses money by providing a state-of-the-art security system that secures your business without having to hire a full-blown team of security guards.
An access control system allows you to reduce access to rooms and areas of your building easily.
If an employee is fired or quits, you don't have to worry about the hassle and expense that comes with making new keys or changing the locks.
An access control system enhances security and allows you to track and monitor people as they roam throughout your building. Every event is timestamped. Plus, you receive comprehensive logging details, and notifications of all activities taken place throughout the day.
How Total Security Can Make Suffolk Businesses More Secure
Our robust security systems give our clients peace of mind in knowing that their homes and businesses are safe 24/7, 365 days a year.
Are you looking for an access control installer in Suffolk County? Contact us today for a FREE onsite security evaluation and a quote at (516) 775-2304 (New York location) or (201) 594-7233 (New Jersey location).