Why Your Business Needs A Commercial Intercom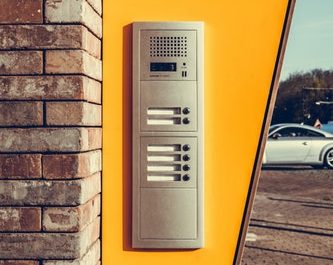 Commercial intercoms are an important part of a business' security system, especially if you own or manage an office building, apartment complex, school, car dealership or catering hall. Many businesses see high levels of traffic and lack the security measures to protect customers, tenants, school children and employees. Regardless of the business type you own, Total Security can help you determine the right type of intercom system for your building.
Depending on the level of security your building requires, you may want to opt for an audio or video intercom system. Schools and apartment buildings for example may require the added security of a video intercom system which allows staff and tenants to see exactly who is trying to enter their building. Meanwhile for office buildings, catering halls or car dealerships, an audio system may be sufficient.
Regardless of the type of intercom system you choose they are a great security measure to protect your staff, tenants or students by allowing you to screen visitors and monitor traffic. In apartment buildings for example, this added security allows your tenants to screen visitors and remotely unlock the door to let them in. Office buildings will be able to monitor entry requests whether it be for visitors or deliveries and once again decide whether to allow people to enter.
Intercom systems create a safe environment and help increase the security of your business or commercial property. They allow you to give access to people to your building or to parts of your building simply through voice communications. Intercom systems can also have multiple remote points with a central communications monitor point, which allows a single individual to receive calls from different locations.
If you don't have an intercom system installed in your commercial or business property, now is the time to do it. Total​ ​Security has over 15 years of experience in installing business audio and visual intercom systems and providing security services and products​ ​to commercial businesses across Long Island, NYC and New Jersey. ​ Contact​ ​us​ ​today​ ​to​ ​learn​ ​more​ ​about​ ​our business security​ ​services. ​ ​Call​ ​our​ ​support​ ​staff​ ​at​ (516) 775-2304​​ ​​ ​(New​ ​York​ ​location)​ ​or 201-594-7233 ​​(New​ ​Jersey​ ​location).