Why Install Security Camera Systems in Homeless Shelters?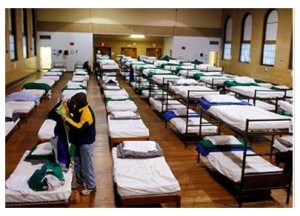 At any place, may it be residential, commercial, or public, security camera systems have been proven to be essential in keeping different walks of life safe from criminal activities. Unfortunately, some places devalued the importance of installing security devices.
Last April 15, 2016, a 56-year-old resident of a Manhattan homeless shelter was found dead and identified to have been murdered. Noah Hurowitz of DNA Info reported in his article that the 30th Street Men's Shelter has never had a security camera system installed. The Bellevue Men's Shelter is one of New York City's largest homeless shelters, providing 850 beds and has been providing temporary shelter for more three decades.
Several residents confirmed the lack of security surveillance and described the shelter's existing security measures as ineffective. The homeless shelter deploys some security guards, however, is being criticized as these security guards are not doing their job efficiently. There have been reports that some security guards remained tied to their posts just using their phones when they are supposed to walk around, checking the area. In fact, on the day the victim's body was discovered, there were 6 officers and 18 security guards on duty. It's also interesting to know that despite the frequent reports of violence, the shelter does not have any surveillance cameras.
Considering the awful incident in Bellevue, it is evident that deploying security guards are not enough to ensure the safety of residents. Additionally, security guards cannot be at different places at one time, and there will be areas that will not be monitored. Therefore, it is best to accompany human surveillance with security camera systems. Surveillance cameras will provide continuous monitoring and can assist personnel in case of emergency situations. Captured footage will also serve as evidence and will help law enforcers identify the suspect of any crime. If there were only security cameras installed, the incident at Bellevue could have probably been prevented, and investigations would have been easier.
Security cameras are of great help to put responsible individuals to justice and to ensure the safety of homeless shelter residents.
After the incident, the Department of Homeless Services and the City Council gave an assurance that they will work together to address safety issues on different homeless shelters in New York City. The NYPD was assigned to conduct security assessments and develop an actionable plan to improve the security of homeless shelters in New York City.
Total Security suggests to take a proactive approach by installing a well-planned out security camera system for homeless shelters. If you have questions on how to improve security in your facility, don't hesitate to reach out to us at any time.
Read original news article here:
https://www.dnainfo.com/new-york/20160418/kips-bay/city-shelter-where-man-was-murdered-has-no-security-cameras-residents-say