Which Security Systems Work With My Smartphone
Which Security Systems Work With My Smartphone
For many years, home security has remained unchanged. But with spread of connected devices and crowd funding sites, a myriad of affordable and useful devices have been seen enhancing security system in homes and offices. A home owner will need to monitor his home security wherever he is. Using a smartphone will enable him see the alarm status and receive text and emails in case of security incident at him home. All he has to do is install a wireless security network in his home and will be able to monitor his home security through his smart phone.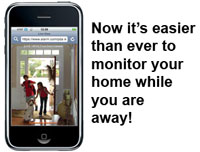 Features of a home monitoring system
Disarm and arm a system
Ability to check home security
Ability to adjust lights and thermostats
Alerts criteria to notify by email or text in case of security incident
Ability to view camera feeds
Total security is one of the security system companies that offers a home owner the option to manage his home security through his smartphone 24 hours a day, from nearly everywhere in the world. These are some of the best smartphone options on home security system available.
Smartphone security application
While a smartphone security feature is used to manage and control security in a home, you can also use the home security to notify up to 15 loved ones using a single key press. This mobile app can also be used by students allow connect with the campus security team in case of an emergency.
Surveillance camera
Many of the cameras offered by Total Security Company can be operated using a smartphone. An example is of such cameras is the nanny camera which allows a parent to hear and see his/her child anytime of the day. The camera is online monitored and the parents can watch videos and cameras by downloading then to their smartphones.
Alarm system
The alarm manufactures have created smartphone security alarms. A home owner can arm or disarm his alarm through his phone anytime he wishes.
Deterrents
Deterrents are important layers of security that are used to discourage burglars. A homeowner can control lights in his home. He can also remotely activate Deterrent when the sun is setting to give passerby an impression that there is someone in the house.
There are a number of security systems that works with a smartphone to help you manage our home security.  Call Total Security to learn more about home security at (516) 775-2304.