Where is the Best Business Security Company in Queens, NY?
Hundreds of of homes are broken into each day in our country, and hundreds of stores are vandalized or held up. The need for security in is something every business owner feels deeply. To neglect this aspect of owning a business is to leave yourself and any employees you may have vulnerable. The trick is to find the right Queens business security systems company company to handle your security needs, and with so many out there, that can seem daunting.
Another issue is affordability. When you think about business security in this day and age, you immediately think about high tech and expensive security. Businesses all over the country are always looking for the best solutions to keep their businesses safe no matter what industry they might be in. But not all business owners can afford really expensive security systems. What is the newest top of the line security tech that has been developed in recent years, is it affordable, and where can you find the best business security company in the Queens area? Today, we will cover these questions!
Latest Security Technology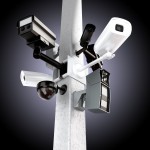 The future is here now, and biometrics, which use biological data to identify people, is always moving forward in leaps and bounds. Access control technology started off in card readers to open security locks and is still a favorite method of access control today. With biometrics, however, there are now finger print scanners and retina scanners available in the market, making it virtually impossible to enter a secure commercial facility.
Biometrics is a type of access control – it allows you to have complete control over who can gain entry to your facility. Key cards and security codes are a type of access control, but keys and codes can be stolen. However, it's not so easy to fake an iris or a fingerprint! Biometrics include iris scanners, finger scanners, palm scanners, face scanners, and voice recognition technology. It is very effective and is more affordable than you might think.
Other Technology
Technology isn't just advancing in biometrics, but in many other kinds of security technology as well. Let's look at a few examples and see how technology is boosting these security devices.
Security Cameras: Thanks to advances in technology, security cameras can be wireless, have night vision, and relay their security feed live to the Internet. That's useful in case you do happen to have a break-in because the information is stored on an Internet server. With technology, you have the option of having hidden cameras in places you may not have thought possible before. There are also now HD Analog cameras, which are very simple, user-friendly, and affordable. They get just as good an image as the more expensive IP cameras, which hook up to the Internet, but do not require an expensive and complicated system to run on. They are taking over the security camera market.
Intercom Systems: Thanks to technology, intercom systems work more efficiently, so you can communicate with guests outside the building, ensuring safe deliveries.
GPS Tracking: Worried about where your company vehicles are at any given time? Not anymore! Put a GPS tracking unit in your vehicles to know exactly where they are and if your vehicles are idling or traveling.
Alarms: State of the art alarms notify the police as well as yourself to give you the best protection.
Queens Best Business Security
If you have been thinking of putting in some security tech for your business, or if you just want to update or advance the security systems you currently have, you may want contact Total Security. At Total Security, we have a long track record of satisfied customers and treat them with the same genuine care we would our own families. Our dedication to affordable rates, timely installations, integrity, and top-notch customer service has helped to earn us an A+ rating with the Better Business Bureau.
We've been keeping businesses and homes safe for over ten years, and we can do it for you, too! Give Total Security a call at (516) 775-2304 for a free estimate today, or visit us on the web at www.totalsecurityny.com. We're looking forward to hearing from you, and to making your business as safe and secure as it can possibly be for the best prices you'll find!