Providing Security & Convenience for Your Home or Business
Are you looking for video intercom systems installation company in Suffolk County, NY? Installing a video intercom system in your home or business will not only heighten security, it will also help enhance security communication throughout your home or commercial building.
How Do Total Security's Video Intercom Systems Work?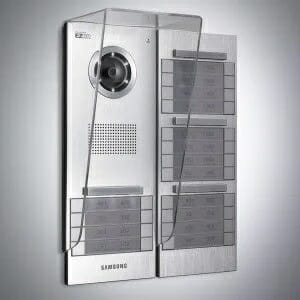 A
video intercom system
is combined with security cameras to gain footage of visitors at the entryway of a home or building. The footage is shown on a monitor from the inside, allowing you to communicate with visitors before giving them access inside. You press a button to unlock the door for people to enter inside remotely. You can manage a residential or commercial video intercom system from a cloud-based mobile app which allows you to use it from a Smartphone, Tablet, or Desktop from anywhere that has internet connection.
Contact Total Security today to request a FREE quote. Call (516) 775-2304 or click here to contact us online.
Video Intercom Systems for Senior Citizens or a Disabled Individuals
One of the biggest concerns for older people and those who are disabled people, who live alone, is their safety and security. Having an intercom with a camera installed gives them peace of mind. A residential video intercom system allows them to verify who is at the door before opening and giving a visitor access into their home.
Suffolk County Parents Can Monitor Their Children With Ease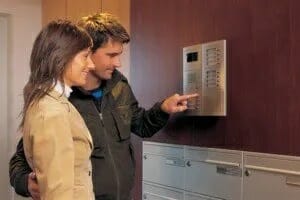 If you are a parent, you understand the importance of knowing where your children are at all times. Having a video intercom installed in your home will help you keep a close eye on your children whether they are playing outside or inside the home. The thought of your child opening the door to a complete stranger is frightening, even if the person is harmless. When you get a video intercom installed by a professional, you experience an instant sense of relief that your family is safe. Your child does not have to open the door to see who the person is on the opposite end. When someone rings the doorbell, it triggers the intercom unit to transmit video and audio to a monitor inside your home. They can see and communicate with the person at the door without unlocking the door. This is a major relief for parents.
Screen Visitors Before Giving Them Access to Your Home or Business
Opening the door to a stranger can be a force of habit. Who doesn't want to know who is ringing the doorbell or trying to gain access to an apartment building or commercial building? Opening the door to the wrong person can be a safety threat to you, your family, or anyone under your roof. Using a video intercom can prevent someone from opening the door to the wrong person. Total Security installs all kinds of intercom systems that will enable you to see who is at your door before allowing them inside your home immediately. If the individual is a threat to your safety, you can notify the police and report the person discreetly.
Video Intercoms Help Prevents Crimes in Suffolk County, NY
Installing a new video intercom system is a great way to discourage criminals. Criminals are always searching for an easy way to gain unauthorized  access to a home or building. However, they must be extra careful. A home or business that is well secure, is less likely to experience criminal activity. A criminal's biggest concern is getting caught or leaving visual evidence of themselves. A home or business with a video intercom system is considered a trap in the eyes of a criminal.
Schedule A FREE Security Consultation Today
Find out how you can secure your home or business today by scheduling a free, no-obligation estimate at
(516) 775-2304
. Technicians at Total Security will help you decide the best intercom system for your home or business. We install video intercom systems all throughout Suffolk County, on Long Island, NY. Call now for a complimentary security evaluation!