Total Security Partners With Le Havre To Install Security Camera Systems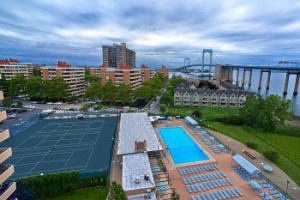 Client: Le Havre On The Water
Building Type: Residential – Waterfront Apartment Development
Start Date: December 1, 2016
Completion Date: December 10, 2016
Location: Whitestone, Queens, New York
The Challenge:
Le Havre On The Water is a 28-acre luxury waterfront complex consisting of 32 co-op buildings located in Whitestone, NY. Le Havre offers a park-like environment which is enjoyed by the community in Queens. Ensuring the safety of families living in the complex and people visiting has always been the priority of Management.
Total Security met with the co-op board to design a security camera solution to monitor their facilities and grounds. The waterfront apartment development needed a reliable security system that can monitor multiple buildings and be able to control who walks in and out of each building.
The Solution:
Total Security first conducted an onsite evaluation to assess the security needs of the Le Havre buildings and then discussed the plan with the board.
Total Security's licensed technicians installed surveillance cameras and recorders on the outside of the main entrance of each building.
The security cameras and recorders installed were high definition with a 1080p resolution, capable of producing outstanding quality images equipped with facial recognition. The recorders include 3TB storage space, allowing for at least 30 days of recording.
Unique Aspects Of The Installation:
Total Security installed high definition surveillance cameras at the best vantage point allowing security personnel to easily identify who is coming in and out of the buildings.
Previous Work For The Enterprise:
Total Security had designed and installed security systems for the fitness club for the entire complex including the pool area.
Total Security is an A+ rated security systems company that works closely with property managers and homeowners to design effective security solutions. Whether you need security camera installations for multiple buildings or a single family home installation, Total Security will provide you with professional service. Call us today at (516) 775-2304 for a comprehensive onsite evaluation.