Three Ways to Improve Security in Supermarkets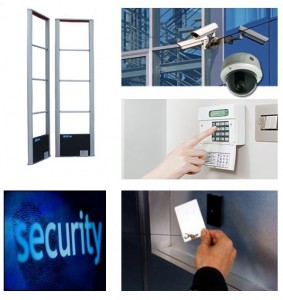 Businesses like restaurants, hotels, banks and supermarkets deal with a large amount of transactions every day. Whenever there is a large number of assets at stake, business security should be taken into high consideration.
If you are a business owner or you manage a supermarket, you would want to protect your inventory, money, property and even the security of your employees. There are many security options available in the market but choosing the right one depends on your business needs. Installing the right supermarket security system can prevent burglars from stealing your products, avoid any property damages and in the long run will save your company a lot of money. Recapturing these losses will help improve your bottom line.
Some of the most common security problems supermarkets face are customer burglary, employee theft and property damages. Below are three ways you can do to improve the security of your commercial property.
Security Cameras
Most supermarkets have problems with burglary. By installing security cameras, you can not only prevent customer theft but you can also control internal theft. Surveillance camera systems will help you protect your investments, reduce shrink and improve your company's overall security program. If anything does happen, recorded videos can be used as evidence. Examples of these cameras are HDCVI Cameras, HDTVI Cameras, IP Security Cameras, High Definition Cameras and Security Systems, CCTV, and Analog Cameras. Ask your security camera installer for advice on the number and type that is best suited for your building.
Additionally, installing surveillance cameras will help increase productivity since it will let your employees know that they are being watched. For businesses with multiple locations, there are surveillance systems that allow security officers to monitor multiple locations at once.
Alarm Systems
A commercial burglar alarm system will help protect your assets and your property. Security alarm devices are standard for many homes but it is also a good security option for businesses.
Security alarms are easy to control. To activate the system, you will be required to type in your security code on a keypad, which is usually a combination of numbers and letters. Whenever there is an attempt for burglary or breach of security, security personnel will be alerted.
Access Control Systems
Security in the workplace is also an important consideration for business owners. Access control system like Key Card Access and Biometric Security Systems will help ensure not only the safety of your employees but as well as your customers. It tracks and only allows authorized users to enter the premises while keeping unauthorized people out.
Key Card Access will only allow authorized personnel to access restricted areas. It works with simple key pad that recognizes unique security code. It contains small radio transponders that identifies unique holder to the system. The key card fits in a wallet and picture of the owner may be printed for additional security.
Biometric Security System on the other hand, provides a higher level of security. This type of access control security system is used for time and attendance tracking. It uses fingerprint recognition which cannot be tampered or modified.
The best decision a business owner must make is to install a security system that meets the needs of both the company and customers. No one should wait for something to happen. It is important to act now. Protect your market by improving your business' security program.
Final note: If you have a strong history of theft and shoplifting, you may need to consider also adding security personnel at key entrances to ward off thieves. This is not necessary at every market and may be a "turn off" in how it is perceived by customers.