Statue of Liberty and Ellis Island Bolsters Its Security Camera System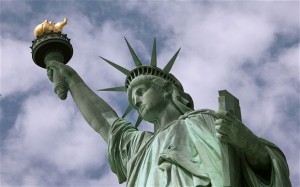 The Statue of Liberty and Ellis Island has upgraded their commercial security camera system in preparation for the holiday season. There was even a morning media tour to showcase the new security renovations.

It was just one year ago that Hurricane Sandy steamrolled into New York City and caused 53 casualties – including hundreds of demolished houses. It cost New York City more than $32 billion in reparations.

Thanks to Hurricane Sandy, several tourist destinations closed, including the Statue of Liberty. On July 4th, the Statue of Liberty reopened its services for the first time in eight months since the storm.

The statue of liberty and Ellis Island had a security camera system already, but it was completely outdated. The old analog system was upgraded for a state-of-the-art digital security system. The new system will not only allow their security team to see things more clearly, but the cameras actually cover more area than they did with the analog cameras. The upgrade should drastically help law enforcement, the National Park Service and State Park Police, do their jobs more efficiently with better quality video and more coverage.

The new security system includes 140 IP cameras and Briefcam Video Synopsis software that allows the security personnel and the police to review hours of surveillance footage. The system also includes Dragonwave packet microwave radio systems for access networks and carrier-class, Milestone Systems video management software, Pivot3 digital storage and compute devices, Proxim Wireless advanced outdoor and indoor wireless radio systems. Scallop Imaging 200 degree panoramic cameras and Winsted Corporation command center consoles are also included in the high-tech surveillance system.

The importance of bolstering security at the Statue of Liberty cannot be exaggerated enough. This is very well timed because  this historical landmark location can become very populated with tourists during the holiday season which increases the threat of crime.  As people come in droves the state-of-the-art security system should help keep tourists safe and allow security workers to do their job much easier.

To find out more information about security camera systems in New York, contact us or call: (516) 775-2304.