Safety Measures to Improve Restaurant Security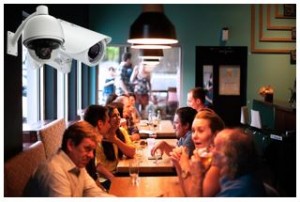 If you are a café, bar or restaurant owner, it is very important that you prioritize security. You have to ensure the safety of your customers and employees as well as protect your business properties. Take note that offering tasty meals is not enough to get full patronage. You also have to guarantee the safety of your customers.
Restaurant security should be taken seriously considering today's increasing number of violent crimes including the recent terror attacks on restaurants and other public places that killed people and destroyed properties.
As a restaurant owner, you have to be keen in maximizing the safety of your restaurant and should consider installing the right security system. Whether you are looking for a basic security or not, security cameras are a great choice.
Here are some reasons why restaurant, café or bar owners should install security cameras:
It helps identify criminals inside and outside the premises;
Security cameras can help monitor parking lot activities;
Surveillance cameras can help monitor the mode of operation and how waiters, bartenders, bouncers, and other employees interact with customers;
Security cameras can help identify offenders on occasion of fraudulent activities or fights;
It allows restaurant owners to supervise the cooking process;
Video surveillance helps monitor cash transactions between employees and customers.
In deciding which security system to install, it is advisable to first consult restaurant security experts. As the owner, you should always be updated with the latest information about crime reports on the surrounding areas of your restaurant. Having this piece of information will give you an idea on what your security needs are and what is the best arrangements for your business. Remember that you are hosting many people and so it is important to secure your premises.
Below are some security measures you can do to improve the security of your restaurant:
You have to install security cameras at different access areas of the restaurant including hallways, dining room, bar, kitchen and most especially at cash registers. The size of cameras is important. Take note that large cameras can make your customers feel uncomfortable. Dome cameras are recommended for indoor use.
It is recommended to set zoom cameras at your restaurant's main entrance.
You can set up hidden cameras to monitor employees who handle cash transactions.
Place security cameras in the kitchen to monitor the entire cooking process and preparation of the orders.
It is very important to install parking lot security cameras to help deter any criminal activity.
Install cameras that are weather-resistant with day & night function, and place them where they are not easily accessible. This will prevent recorders from being vandalized or stolen.
The installation of restaurant surveillance cameras, however, should not be misunderstood as a mistrust between the staff and management. Rather, should be considered as an effective solution to ensuring the safety of everyone. It also helps restaurant owners to run their business efficiently and make better decisions for the growth of the business.
Total Security is an experienced security system provider that uses a new and effective approach to improving the security of restaurants, bars, and cafes in New York City and Long Island. Remember that hiring a reliable security camera installer can go a long way to preventing profit loss and in increasing revenues.