Roosevelt Field Shooting Leaves 1 Man Dead and Another Critically Injured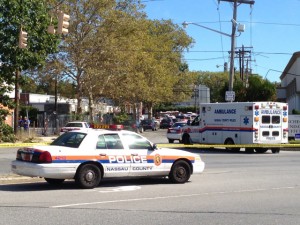 According to CBS news, a shooting near the Roosevelt Field Mall in Garden City, New York has left one man dead and another one injured. The man has been identified as Sang Ho Kim of Fresh Meadows in Queens. Authorities are saying that it is possible that Kim may have fled to Upstate New York.
Police detective, Michael Bitsko believes that the shooting was premeditated.
"This individual came here to confront these two individuals who work in this facility, Bisko told CBS New York. "This was not a random act, and then fled the scene."
Is it possible that surveillance cameras would have prevented this shooting? It is possible but it's not likely. However, it certainly would have sped up the process of apprehending the suspect. Because of the shooting, colleges such as Hofstra and Nassau Community College were locked down because of the high populated number of students in a congested area. Several schools in the area were closed and roads were shut down. It was nothing short of chaos.
Authorities were extremely fortunate that they were able to link Kim with his former employer, Save Energy. If not for that they would be looking for a man with the only description being  an Asian man who was 6'2". It would have left doubt whether the shooter would be caught and brought to justice in a timely manner. In the Nassau County and surrounding areas, there are over 506,000 Asian Americans that live in the borough of Queens alone.
It's another day and another tragic shooting. It's a reminder that we need to take as many precautions as we can in today's day and age. It's a completely different world that we live in.
This is also a great example of why surveillance cameras are important on college campuses. There are thousands of potential victims swarming on a college campus at a given time. School surveillance cameras provide a school with much-needed security and protection, rather than locking students in buildings and hoping for the best. They are also a helpful way to protect your business, your families and yourself. In the case of the Roosevelt Field shooting, they were very lucky that they had further information to identify the shooter and that there were not additional casualties. Still, one loss is too many, and we should all continue to ask ourselves how we can help prevent these events from occurring in the first place.
Be sure to LIKE our Facebook page for more great security tips, news and important information. For more information on security cameras to help protect your home or business, call Total Security at: 516-775-2304.