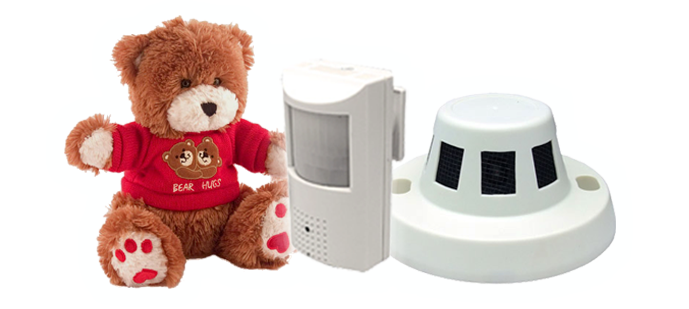 Nanny Cams, sometimes called covert cameras, are security cameras used to record people without their knowledge. Hidden cameras can be built in the appearance of common household item such as smoke detectors, clocks, PIR motion detector, fire sprinkler, air purifier, teddy bears, and etc.
Covert hidden cameras can be used to ensure peace of mind and the safety of your family and business. Prevent employee, housekeeper or roommate theft by using concealed video surveillance cameras.
Our miniature covert video cameras also come hidden inside of plants, radios, & exit signs. Also available are covert wireless hidden camera systems which can be moved from room to room. All of our covert video surveillance systems come plugs and play ready. Plug any of our hidden cameras into your Digital Video Recorder and you have a quality concealed video surveillance system. We offer professional grade hidden cameras and law enforcement grade hidden camera systems.