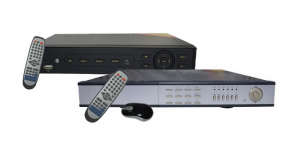 Digital video recorders (DVRs)

 replaced VCR's, the storage media were no longer dependent on intense labor intervention or tape quality. Video images are stored digitally on internal hard drive storage. Some of the main advantages of digital video recorders are: extremely better image quality, ease of use, advanced search capabilities searching a video with specific date and time, simultaneous record and playback, no image degradation, improved video compression and storage, remote internet monitoring, recording, maintaining and more .

Digital Video Recorders come in various channel camera inputs, starting with 4 channel DVR and can go up to 64 channels. The DVR has a built in multiplexer which will allow you to view all of the camera channels at one time on one screen and all the video is saved to the hard drive separately. Therefore, the conventional way of connecting a switch, quad, or multiplexer is not required with a DVR.
Digital Video Recorders used for security purposes are the same in concept as household ones used to record TV programs, but are also typically capable of storing many more hours of footage, recording multiple channels, and producing other helpful features in the recording, organizing, and playback of video.

When choosing a DVR there are a number things to look for:

Frame Rate: is important, as the higher the Frame Rate, the higher the quality of recording and the more Real Time your cctv recording will be. Real Time Recording for 1 camera is 30 Frames Per Second. In order to capture 16 cameras in Real Time, you would need? 30FPS x 16 Cameras = 480Frames per Second.

Hard Drive Capacity:the bigger the hard drive the longer the time of storage. Each DVR has a storage capacity. Total Security offers a hard drive calculator to estimate the hard drive you need for given number of days of recording. Total storage capacity may vary depending on complexity of video scenes, system configurations and features used on the actual installation sites. Furthermore, the type of cameras that are connected to the DVR makes a difference, meaning higher resolution requires more space. The field of view will also affect storage capacity, the more complex the images the more space is required.

Recording Capability: some DVR's support various recording options such as record on motion detection only, round the clock recording and scheduled recording.

Network Capability: nowadays most digital video recorders have remote access capabilities, meaning from a remote location with internet connection login to the video surveillance recorder to live view, playback, and backup video files.

Video Backup: is crucial with digital video recorders, there are many ways to backup video surveillance files, some of the common ways are: burning files on a CD or DVD, network backup, USB flash memory backups and external hard drive backups. Not all DVR's have the above backup methods as not all sites require a routine backup of video files.

Simultaneous Capabilities: is defined on how many functions the DVR is capable of doing at the same time, most common DVR's come as Triplex, meaning it would record, live view and playback simultaneously without having to stop any of the other features. On the other hand, a simplex DVR would only allow one at a time, if you need to playback recorded video files you would need to stop recording first.

• The usages of the 4 Channel DVR can be used for small residents & houses, offices and deli's.

• The usage of an 8 Channel DVR can be used for medium sized places such as pharmacies, Liquor stores and daycare centers.

• The usage of a 16 Channel DVR can be used for medium sized places such as offices, small organizations, warehouses, schools, cafes, restaurants or gas stations.

• The usage of a 32 Channel DVR can be used for, supermarkets convenient stores, movie theaters, villas, medium organizations, small banks, cloths & shoes stores or even big Dry cleaning store

• The usage of a 64 channel DVR can be used for museums, parks, libraries, car dealership, jails, gyms, restaurants, bars and courthouses.

• Total Security offers a wide range of Digital Video Recorders for your CCTV security surveillance system, with various number of channels to fit your home or business needs. Four, eight, sixteen, and thirty two channels are the most popular channels that we offer..