Protect Yourself From Neighbor Disputes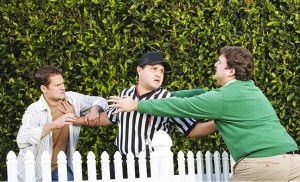 If you live in the greater New York area, I'm sure you've figured out by now that you have neighbors that live very close to you. Sometimes we really don't get along with our neighbors. They are all around, to the left of you, to the right of you and in some cases below or above you. Let's face it, we don't have the perfect neighbor that only exists on television.
The relationship we have with our neighbor is sometimes spotty at best. How well do you know this person? Sometimes you may get into disputes or fights. Sure they may start as words; however, things can easily escalate. Words can become actions and that is a significant problem for you.
There are several reasons to get a security camera if you have a troubling neighbor or are having a conflict with the previously mentioned neighbor. Problems can range from their dog continuously using your front lawn as a bathroom to vandalism to your cars or property. Problems such as these are actually quite common. However, problems can become even more serious. The problems can even escalate to you fearing for yourself or your family's safety.
Did you know that tampering with someone's mail is a federal offense? However, that doesn't stop some people from touching your mail in the mailbox or packages from UPS. If you are worried about somebody stealing your packages, a home security camera would be a great solution to see if anyone is touching your mail.
Now some of you may wonder about the legality of putting a security camera system on the side of the house because it will, more often than not, record video of your neighbor's side of the property. A camera doesn't have tunnel vision, it has peripheral vision, like the human eye. Putting a camera on the side of the house is perfectly legal and fine to do. However, it may be wise to not point a camera directly onto somebody's property as this may causing even more conflict.