How Nursing Home Security Systems Can Create A Safer Environment For Residents And Staff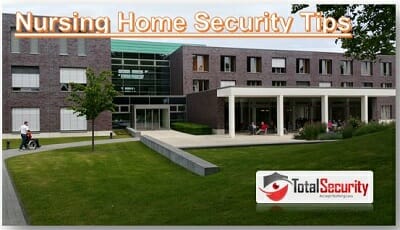 Nursing​ ​homes​ ​in​ ​New​ ​York​ ​and​ ​New​ ​Jersey​ ​should​ ​function​ ​as​ ​a​ ​place​ ​of​ ​safety​ ​for​ ​both​ ​the​ ​residents and​ ​the​ ​employees​ ​who​ ​come​ ​to​ ​work​ ​each​ ​day.​ ​There​ ​are​ ​a​ ​lot​ ​of​ ​safety​ ​issues​ ​to consider​ ​when​ ​it​ ​comes​ ​to​ ​managing a​ ​nursing​ ​home. You need to consider the​ ​safety​ ​of​ ​your patients​ ​and​ ​employees,​ ​protection from​ ​liability​ ​issues​, ​and​ ​ensuring​ ​patient​ ​care​ ​is​ ​operating at​ ​your expected level of quality​ ​at​ ​all​ ​times.
Often times, you may be dealing with patients who are suffering from alzheimer's or dementia. This may mean you need to prevent them from accessing certain rooms, where they may be liable to get injured and keep a watchful eye on them.
When it comes to improving patient safety the use of surveillance cameras, intercom systems, alarm systems and access control cards can make all the difference.
Nursing Home Surveillance Cameras
Surveillance cameras allow you to actively monitor the safety of those in your care, ensuring they are being taken care of and are comfortable at all times. This is also a great tool to utilize if patient care needs to be adjusted and addressed with your staff. Video surveillance cameras allow you to monitor who enters and exits your building and identify visitors. Another benefit of nursing home surveillance cameras is warding against potential theft. Often just the presence of video cameras is enough to ward off would-be burglars, and your security guards will be able to monitor any potential threats in live time.
Alarm & Access Control Systems
Alarm systems allow you to monitor for intrusions, fire and natural leaks helping you to maintain a high level of safety for your residents and staff and can be linked to your cell phone so you will be notified immediately in the event of an emergency. Intercom systems and access control cards allow you to control who does and doesn't have entry to your facility. And keep anyone out who does not belong. You will also have the ability to give special access to employees allowing them to come and go freely.
Create a safe environment for your residents and staff by ensuring​ ​your nursing home or rehabilitation facility is fully protected.​ ​Total​ ​Security​ ​provides security services and products​ ​to nursing homes all throughout ​Long Island,​ ​NYC​ ​and​ ​the​ ​entire​ ​New​ ​York​ ​and​ ​New​ ​Jersey​ ​area.​ ​Contact​ ​us​ ​today​ ​to​ ​learn​ ​more​ ​about​ ​our nursing home​ ​security​ ​services.​ ​Call​ ​our​ ​support​ ​staff​ ​at​ ​​516-775-2304​​ ​(New​ ​York​ ​location)​ ​or 201-594-7233​ ​​(New​ ​Jersey​ ​location).