Nassau County Security Camera Installers With A+ Rating From BBB
In today's world, owning or running a business or managing properties means installing security cameras. Many homes require the same. With recent advances in camera technology such as HDCVI and HDTVI cameras, surveillance cameras have become more effective and affordable than ever before. Therefore, being able to afford to install cameras isn't the question for most homes and businesses that need them. Rather, the question is of how to find a reliable and efficient installer who offers great customer service and reasonable rates.
There are many security companies you could hire to install security cameras, but not all of them offer the same level of service. One way to identify a really outstanding company is to find one that has an A+ rating with the Better Business Bureau. Below, we'll go over a few reasons why Total Security has earned such a rating and why they are the only security experts you should call today!
Total Security Actually Cares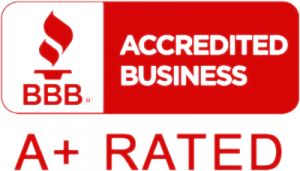 This might seem obvious, but it's important to find a security company with a staff who genuinely care about the safety of their customers. This applies in any industry, but is especially important when it comes to the security of your home or business. A company which sees you as just a number or nothing more than the next paycheck is more likely to do shoddy installation work and to make mistakes. Additionally, they are more likely to charge you a rate that is higher than necessary.
At Total Security, our customers and their safety are very important to us. We take your security and your budget very seriously, and won't try to sell you more than what you actually need. We'll evaluate your particular security needs to help you choose the right product at the necessary quantity – if you really only need two cameras, we won't try to see you three.
Quality Nassau County Security Camera Installers
Our genuine care comes through in the quality of our work. Our customers are loyal to us because they see how seriously we take the quality and speed of our installation. Our experts get the job done faster than you'd think possible with no errors – your system will run smoothly. We work hard to avoid installation mistakes that could cost you more money in the future.
The Best Rates Possible
Having a product that is affordable for our customers is important to us. We don't want to have a service that is only available to certain folks and businesses. If you need security solutions, we want to work with you, and we know how to work with your budget to get you the best possible security for the best possible rates.
Total Security – Nassau's Finest Security Company
Total Security has earned its A+ rating by providing the best service possible for over ten years. Our customers enjoy timely installations, affordable rates, and a friendly staff of experts who genuinely care for their well-being. If you're in need of security cameras for your home or business, the folks at Total Security would love to hear from you today. For a free quote, call us at (516) 775-2304 or visit us on the web at www.totalsecurityny.com. We're looking forward to hearing from you and to providing you with the finest camera installations possible!