Security Solutions for Manufacturing Facilities in New Jersey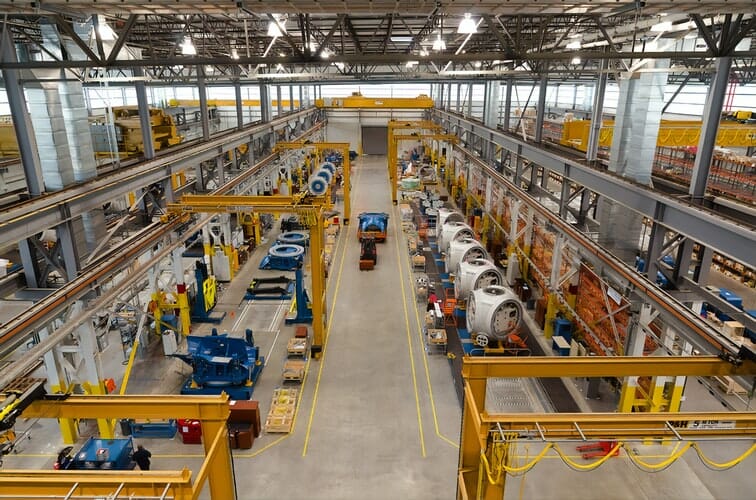 New Jersey manufacturing companies have a high need for installing a security system that meets all of the needs of their facility. Not only do these facilities normally have a large number of employees, but they also often have thousands of dollars of product and material inside the building at all times.  Installing a security camera system for your New Jersey manufacturing facility is the best way to make your products and employees feel safe and secure. Not only do you need to be concerned with a break-in, but you also need to take measures in preventing employee theft. Additionally, as some of these facilities can have hazardous material or equipment inside, you also want to protect yourself from a lawsuit in the event of an injury.
At Total Security, we understand the challenges faced by the building managers of manufacturing companies which is why we offer various security solutions that have been designed to address the specific security needs of your industry.
We specialize in providing a comprehensive security solution that will ensure the safety of your product, keep a watchful eye on your employees or visitors, protect your building inside and out, and prevent outsiders from gaining unauthorized access to your facility.
Due to the high volume of traffic in manufacturing facilities such as production and office staff, delivery drivers, and visitors, it's important that your building feels secure. In addition to keeping your products safe, you also want your employees to feel their belongings are secure in locker or storage rooms, break rooms, and offices. Since it's impossible to keep an eye on everyone in your building even with security staff on payroll, the only solution is to install a security system in place that you know you can rely on.
We offer the following services to manufacturing facilities in New Jersey:
A comprehensive site assessment of your facility and offices
Security strategies & solutions for any size building
Simple, clear, easy to understand estimates
Clear communication throughout the entire installation process
Lifetime technical support
9% on budget and on-time delivery success rate
A seamless professional process from the moment you call us to the complement of your installation
A stable long-term team that is committed to supporting the security of your facility or warehouse
Here are the security solutions we recommend for New Jersey manufacturing facilities and factories:
Surveillance Cameras
Security cameras are a must in any sized factory, especially ones where you have a large number of employees or are manufacturing valuable products and material. Security cameras for manufacturing facilities can help you oversee your employees, monitor guests, delivery drivers, and anyone else who may be in your facility. They can also help you keep an eye on delivery entrances, offices, break rooms, production areas, secure areas, and people's belongings.
Security cameras give building managers or owners to keep a watchful eye on your facility as your employees work at all times. Surveillance cameras give you 24/7 monitoring access even during the times you're not able to be on site. You can easily access camera feeds remotely via cell phone, tablet, or laptop whether you are on-site or off. Manufacturing company surveillance cameras will also enable you to generate data that can be used in the event of a break-in or should an incident occur on-site and a lawsuit occurs.
Once you have decided to have security cameras installed in your building, the next thing you need to do is identify the areas you want to install them. This means you need to identify your vulnerable areas. Usually, these are areas that have high traffic or may contain secure items, in the case of a manufacturing company you may also want them in production rooms.
We recommend installing security cameras in the following areas:
Building entrances & exits
Production areas
Interior hallways or corridors
Waiting areas
Office areas
Delivery entrances
Parking lots
Regardless of the size of your building and surrounding property, we recommend installing a quality video surveillance system for your manufacturing facility.
Learn more about manufacturing company security cameras in New Jersey.
Access Control Systems
An access control system in your warehouse will put you in control of who can enter your building, and who can gain access to certain areas within your facility.  These systems give management the control of their facility and can provide or revoke access easily to employees as needed. An access control system can be installed on either interior or exterior entrances, offices, production areas or anywhere else you would like to restrict access.
These access control systems give you the ability to track employees' entrances and exits through doors by name, date, and time, and will even tell you doors they accessed throughout the building. This is important if you have a large staff, or in the event, theft occurs. Finally, these access control systems can be fully integrated into your overall security system and can enable specific employees to disarm the production facility without needing to provide them access to restricted areas.
Learn more about access control systems for manufacturing companies.
Alarm Systems
Manufacturing company alarm systems are another important component to your building's security system. These systems will alert you immediately in the event of a break-in, and allow you to promptly alert the authorities. Additionally, just the presence of an intrusion alarm system will often deter would-be thieves, and can drastically reduce the risk of theft, break-ins or vandalism.
Our integrated security systems will also allow building managers to monitor and control your facility's security system remotely from a mobile device, so you can stay on top of what is happening inside of your facility at all times.
Learn more about commercial alarm systems for manufacturing companies.
At Total Security, we understand the complex security needs faced by managers or owners of manufacturing companies and how installing a comprehensive, quality security system can help protect your business and your valuable company product.  Our Security Consultants understand that there is no "one size fits all" system and will work with you to develop a security system that meets your needs. To learn more about how Total Security can help your business contact us today.
TOTAL SECURITY CAN MAKE YOUR MANUFACTURING FACILITY MORE SECURE – CONTACT US TODAY!
An integrated security system is an important component of running an efficient business that is profitable for you and safe for your employees. The security solutions from Total Security Integrated Systems can help manage any security and safety challenges for New Jersey manufacturing company. Total Security is a full-service security system installer with over 15 years of experience in installing commercial video surveillance, access control, and burglar alarm systems with an A+ BBB rating.
Total Security makes security simple for manufacturing company owners or managers. After we perform your consultation, we will develop a plan that will help secure your property, inventory, and personnel. We pride ourselves on professional installations and maintenance service of security cameras, alarm systems, and access control systems for commercial buildings.
Call our support staff at (201) 594-7233, we offer FREE manufacturing site security evaluation. Contact us today!