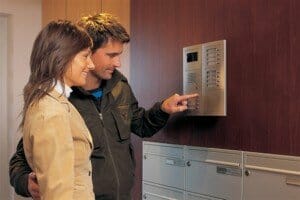 According to the U.S. Census, there are over 900,000 people living in Bergen County, with over 350,000 housing units. Residential intercom systems allow homeowners to identify visitors before answering their door safely. When the doorbell rings, the Intercom unit will transmit audio and video to the monitor inside of your home.
Total Security offers a range of audio/video intercom systems for both residential homes and apartment buildings. They can be equipped with master stations and be installed on several doors, or they can be simple audio-only systems.
Whether you are a homeowner in Bergen County or manage an apartment building in the area, we can help you determine which intercom system is right for your property, what the proper access points are and help create a package to meet your budget. Call (201) 594-7233 for a free onsite evaluation.
Feeling Safe and Secure Within Your Home or Apartment is Important for Any Type of Residential Properties
Having quality, dependable communication between different areas of your home is vital for your family's security and to provide you with increased peace of mind. Intercom systems are ideal not only for homeowners and property managers of apartment buildings but also for condominiums and co-op properties.
Benefits of Intercom Systems for Homeowners
There are many benefits of installing an intercom system in your home or your apartment complex. When paired with an existing home alarm system, you can increase your family's safety by:
Screening Visitors – Residential homeowners or renters can see who is at their door before allowing someone access to their home or apartment. If the person is not someone they recognize, it allows the homeowner to identify the purpose of the visitor or their needs before deciding whether or not they want to open the door to allow the visitor into their home.
Communicate With Visitors – Many home intercom systems are equipped with two-way audio allowing you to speak with whoever is at your door. With mobile applications, you can even communicate with them remotely from your phone or tablet.
See Who Comes to Your Door While You're Out – A video intercom system creates a picture of the visitor with a time and date stamp anytime someone approaches your door. This is a great way for you to monitor who has come to your door while you're not home and also acts as a deterrent for would-be burglars.
Who Can Benefit From An Intercom System:
Homeowners
Property management companies
Apartment buildings and complexes
Condominium complexes
Co-op complexes
Total Security Can Make Your Business More Secure
Residential intercom systems from Total Security Integrated Systems can help provide added security and safety to homeowners in Bergen County, NJ. Total Security is a full-service home security system installer with over fifteen years of experience in installing audio and video intercom systems. Regardless of whether you own a private home, apartment building or condo, or co-op complex, Total Security has security solutions that are designed to meet your specific needs.
Call our support staff at (201) 594-7233.  We offer FREE onsite security evaluation. Contact us today!