Intercom Systems Installation for Apartment Buildings, Residential & Commercial Properties in Jamaica, NY
Providing Buildings in Jamaica, NY with 20+ Years of Reliable Audio and Video Intercom Solutions. Call
(516) 775-2304
for a FREE quote.
Looking to upgrade your intercom system in Jamaica? You've come to the right place! With over two decades of experience, Total Security has become a leading provider of revolutionary intercom systems and other security solutions for multi-family apartment complexes and commercial offices in Jamaica, NY. Our mission is to enhance safety and security through innovative video and audio intercom systems.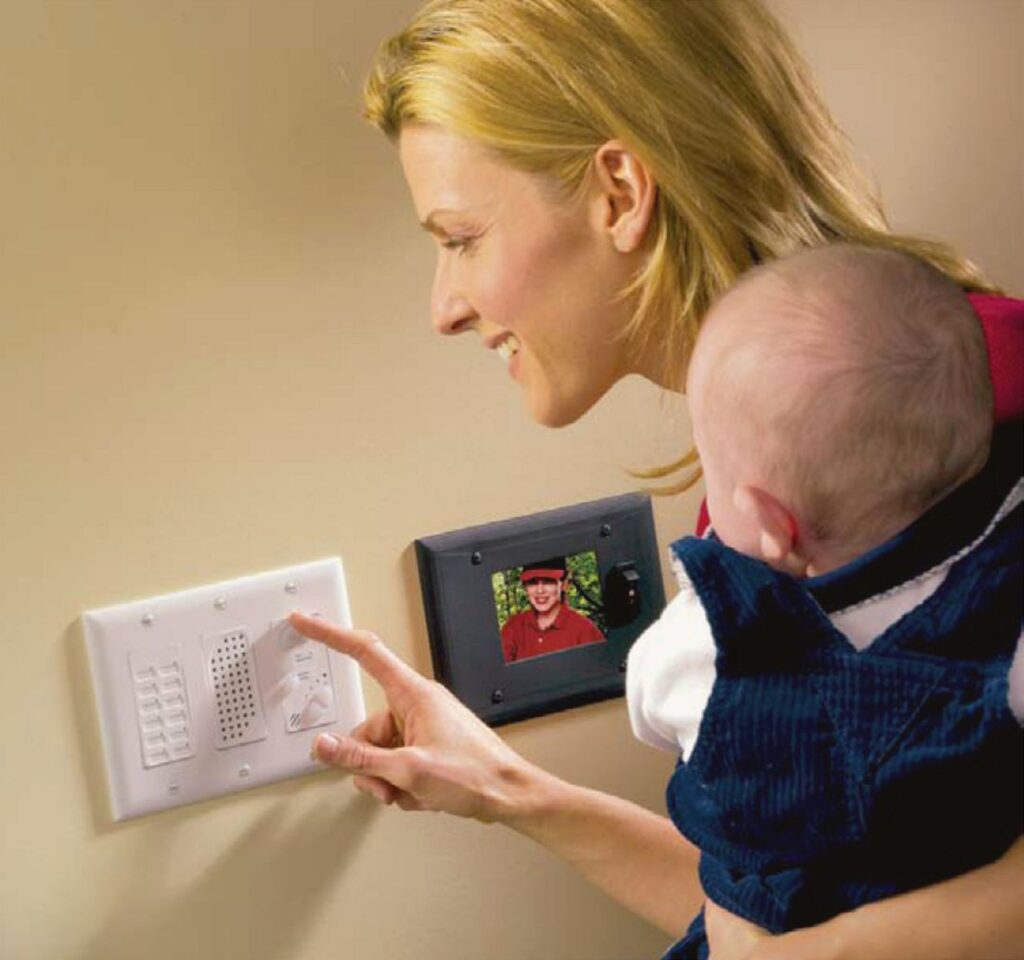 Our seamless integration of video and audio intercom systems provides reassurance and improved communication throughout your building for your residents, renters, and lessees.

We have successfully implemented solutions for buildings in Jamaica and throughout the greater NYC area for property owners, government organizations, management companies, and local businesses.

Ready to experience the best intercom systems and security camera solutions in New York City? Contact our experts today and upgrade your property for a safer and more secure future. Call (516) 775-2304 or fill out our contact us form.
Residential Intercom Systems for Apartment Buildings in Jamaica
As a building owner, you are rightfully concerned about the security and accessibility of your residential property. Total Security installs intercom systems for a diverse range of residential buildings, including:
townhouses
brownstones
condo buildings
co-op buildings
walk-up apartment buildings
luxury apartment buildings
By choosing Total Security, you can rest assured knowing that your residential property is in capable hands, delivering unparalleled security and accessibility to your building.
Commercial Building Intercoms in Jamaica, NY
No matter if you're responsible for overseeing a prestigious Class A office building known for its cutting-edge amenities, a bustling Class B building nestled in lively neighborhoods, or a more laid-back Class C establishment, our comprehensive range of office intercom system solutions is tailored to address your specific security requirements. With our expertise, we can provide you with the perfect intercom system for your building, ensuring seamless communication and enhanced security all throughout.
Benefits of Intercom Systems for Apartment Buildings in Jamaica, NY
Here are some of the benefits you can enjoy by installing apartment building intercoms:
Manage building access with video and audio from anywhere: Our intercom systems allow you to conveniently manage building access without physically being present at the door. Through video and audio capabilities, you can verify and grant entry to authorized individuals, enhancing the security of your building.
Enhanced security for tenants: By implementing intercom systems, we prioritize the safety of your tenants. With controlled access points, unauthorized individuals are prevented from entering the building, providing peace of mind for residents.
Package protection and convenient access: Our intercom systems not only safeguard packages that are delivered but also offer a convenient solution for package access. Tenants can receive their packages securely, ensuring their valuable deliveries are protected.
Improved communication between visitors and tenants: Our intercom systems facilitate seamless communication between visitors and tenants. Visitors can easily announce their arrival, and tenants can respond and grant access as needed, creating a convenient and efficient communication channel.
Time-saving streamlined access: Say goodbye to traditional key-based access systems. With our intercom systems, you can streamline access to buildings, saving time for both tenants and property owners. Access can be granted remotely, eliminating the need for physical keys and allowing for efficient entry management.
Improved quality of life for residents: By installing apartment building intercoms, we aim to enhance the overall quality of life for residents. With improved security, seamless communication, and streamlined access, tenants can enjoy a safer and more convenient living environment.
We are committed to providing you with these benefits and more through our reliable and advanced intercom systems. Request a FREE onsite quote today! Call Total Security at (516) 775-2304 or get a quote online.
Types of Intercoms We Install
Here are the types of intercom systems we install, each designed to meet your specific requirements:
Video/Audio Intercom Systems: Our video/audio intercom systems provide a comprehensive solution for secure communication and access control. With integrated video capabilities, you can visually verify visitors before granting access, ensuring enhanced security for your building.
Audio-Only Intercom Systems: For situations where video is not necessary, our audio-only intercom systems offer a reliable and cost-effective option. These systems allow clear voice communication between tenants and visitors, maintaining a high level of security and convenience.
IP-Based Intercom Systems: Our IP-based intercom systems leverage advanced technology to provide flexible and scalable solutions. With network connectivity, these systems enable seamless communication and management, allowing you to easily integrate them into your existing infrastructure.
Virtual Doorman Intercom Systems: Our virtual doorman intercom systems provide an innovative alternative to traditional on-site doorman services. With video and audio capabilities, these systems allow remote monitoring, visitor verification, and access control, offering convenience and security to residents.
Telephone Entry Systems: Our telephone entry systems provide a simple yet effective way to manage access to your building. With a dedicated telephone line, residents can grant entry to visitors remotely, ensuring secure and controlled access.
We offer a diverse range of intercom systems to cater to specific building requirements in Jamaica, NY. Whether you need video/audio capabilities, IP-based integration, or virtual doorman services, our installations are designed to enhance security and communication within your building or apartment building.
Here is how intercom systems work:
Door Access: The activated relay triggers a door-releasing device, such as a magnetic or electronic lock, which unlocks the entrance door. This action allows the visitor access to the building, ensuring a secure and controlled entry process.
Visitor Identification: The visitor locates the person they wish to contact for building entrance using the external intercom unit and a directory. This directory can be in the form of a video or audio intercom system, providing visual or audio information about the residents or staff members.
Initiating the Call: Using the intercom's 'call' button, the visitor selects the appropriate unit number to establish communication with the desired individual. This action initiates the call and establishes a connection between the visitor and the occupant of the building or the staff person.
Notification to Occupant: Upon receiving the call, the occupant of the building or the designated staff member is notified either through a buzzer or their smartphone. This notification alerts them that there is someone seeking entry and allows them to respond accordingly.
Resident/Employee Response: The resident or employee has several options upon receiving the notification. They can choose to end the conversation if they are unable to grant access or if it's an unwanted visitor. Alternatively, they can engage in a conversation with the guest to gather more information or confirm their identity. If they decide to grant access, the intercom system activates an electronic relay.
Our intercom systems provide an effective means of visitor identification, communication, and controlled access, enhancing the security and convenience of your building or apartment building.
What makes a Video Intercom the Optimal Choice?
When you need to get an intercom system, choosing a video-capable solution is the better choice for enhanced security. By incorporating both audio and visual communication capabilities, a video intercom system surpasses audio-only functionality. This is vital for office buildings or apartment complexes lacking concierge or security guard services. With a video intercom system, residents or office tenants can visually identify visitors before granting access.
The Intercom Installation Process Will Be Unique To Each Client
Every client installation project is different, which is why our intercom installation process is customized to meet your specific requirements. The approach we take depends on factors such as the type of intercom system and the scope of work involved.
In Jamaica, most intercom system installations involve upgrading existing systems. For retrofit projects, where older intercom systems are being upgraded, we prioritize cost savings by utilizing and reusing the existing intercom wiring. This approach not only saves you money but also minimizes disruption to the building's infrastructure.
On the other hand, IP systems require rewiring, specifically Cat5/6 cabling, which adds complexity to the installation process. Additional hardware is also necessary for IP systems. However, rest assured that our team approaches each installation with precision and expertise to ensure seamless results. The scope of the installation is influenced by your specific needs. For example, if you require alerts to be sent to tenants' devices, a main entry panel wired to an internet gateway may be sufficient.
This approach reduces the need for extensive wiring. However, if each apartment requires its own internal intercom stations, new wiring must be installed from a central control location to each apartment.
Regardless of your needs, we will develop a process that meets your requirements while minimizing disruption and cost.
Choosing the Right Intercom System Installer in Jamaica
When selecting an intercom system installer near Jamaica, consider these important factors:
Experience: Look for a company with a strong track record in installing intercom systems.
Portfolio: Ensure the installer has successfully tackled diverse installations similar to your needs.
Hardware Quality: Verify access to reliable, professional-grade intercom system hardware.
Specialization: Choose a company dedicated to security solutions for buildings and apartments.
Service Commitment: Consider their commitment to exceptional service and ongoing support.
By considering these factors, you can confidently choose an intercom system installer in Jamaica that meets your requirements. We meet all these criteria, providing reliable installations and exceptional support for your building's security needs.
Get a FREE onsite estimate! Call (516) 775-2304 or contact us online.    
Why Choose Total Security for Your Intercom System Installations in Jamaica, NY?
We strongly believe in prevention-focused approaches to ensure the safety and well-being of individuals and organizations. Here's how we can help:
Cutting-Edge Solutions: Trust us to meet your security needs with cutting-edge solutions that create safer environments, manage risks, and minimize liabilities.
Customized Safety Plan: We develop a comprehensive surveillance and intercom system safety plan tailored to your specific needs and requirements.
Expertise and Innovation: With extensive experience and expertise, we provide innovative security measures that effectively mitigate risks and safeguard your tenants, guests, employees, and assets.
Lifetime Tech Support: We offer Lifetime Tech Support to all our clients, ensuring ongoing assistance and peace of mind.
Your Trusted Partner for Comprehensive Security Solutions
At Total Security, we excel in several key areas, making us the trusted choice for all your security needs. Our strengths lie in our adaptability, experienced team, and comprehensive services. Here's why you should choose us:
Adaptability: We understand that construction projects often face unforeseen circumstances and changes in the original scope of work. Our team is skilled at seamlessly adapting to changing environments, ensuring we consistently deliver the promised results.
Experienced Team: Our highly experienced Foremen and Project Managers possess extensive industry knowledge and expertise. They oversee proper manpower utilization, keeping your project on schedule. Additionally, they efficiently handle any installation issues that may arise, ensuring a smooth process.
Reliable Security Solutions Installers: Our company-trained professionals are among the most knowledgeable and reliable in the industry. They handle all security system installations with precision, providing you with peace of mind and confidence in the quality of our work.
Comprehensive Approach: Unlike other security equipment vendors, we go beyond mere supply. We have our own technicians, a fleet of trucks, and a dedicated office staff ready to assist you at every step. This allows us to design, install, maintain, and repair your entire intercom security system promptly and with minimal downtime.
Outstanding Credentials: We have earned a stellar reputation and credentials, including an A+ rating from the Better Business Bureau (BBB). This rating serves as a testament to our commitment to excellence, customer satisfaction, and ethical business practices.
With Total Security, you can trust our adaptability, experienced team, comprehensive services, and outstanding credentials to meet all your security system needs. We are dedicated to providing top-notch solutions that ensure the safety and peace of mind for you and your property.
Call (516) 775-2304 or get in touch online to request a FREE onsite quote.
Our Process - How It Works
When you choose us for your intercom system installation in Jamaica, NY, you can expect a streamlined and efficient process. Here's how it works:
Security Consultant Visit: An experienced Security Consultant will visit your location to gain a thorough understanding of your specific needs and requirements. This step allows us to tailor our solutions to your property.
Detailed Proposal: We will create a proposal that outlines the scope of work specific to your project. This proposal includes all the necessary details to ensure transparency and clarity.
Board Approval: We understand the importance of board approval and can provide any additional information or clarification needed to secure their agreement.
Revisions and Questions: During the board meeting, we are available to address any questions or concerns that may arise. We are committed to open communication and can make revisions to the proposal if necessary to ensure everyone's satisfaction.
Sign-off on Scope of Work: Once approved, we proceed with the installation process. This sign-off serves as a confirmation that all parties are aligned on the project requirements.
Installation: Our team of expert technicians will schedule and carry out the installation with precision and professionalism. You can trust that our experienced professionals will handle the process efficiently, minimizing any disruption to your daily operations.
From the initial consultation to the final installation, we are dedicated to delivering high-quality intercom system installations that meet your unique needs.
Top Brands of Intercom Systems We Install
We only work with the top, leading brands so you have the best experience with your intercom system. Here are a few of the brands we install:
AiPhone
Carson
For higher-end "virtual doorman" types of installations
LeeDan
Budget-conscious, audio-only installations
Butterfly
For higher-end "virtual doorman" types of installations
Comelit
Standard wire system
IP-Based Systems
Get Started With Your New Intercom Installation Today!
Jamaica is located in the borough of Queens, New York – it is a vibrant neighborhood known for its diverse population and rich cultural heritage. With a population of over 133,356 resident, Jamaica offers a bustling atmosphere and a wide range of amenities and attractions.
Popular landmarks in Jamaica include: