Ozone Park, NY Intercom System Installations
20+ Years of Expertise in Consultative Security with Concrete Results, Specializing in Audio & Video Intercom Systems.
Searching For a New or Replacement Intercom System in Ozone Park?
Total Security is a trusted partner for intercom system installations and cutting-edge surveillance solutions in Ozone Park, NY. With over 20 years of experience, we specialize in making buildings safer for everyone, whether it's a resident, renter, or lessee. Our expert team is well-versed in both video and audio intercom systems, ensuring premium security on which you can rely.
We take pride in serving a diverse range of clients near Ozone Park and throughout the NYC area. From local businesses to enterprise-level clients, property owners, management companies, and even government organizations, we've earned their trust by delivering exceptional security solutions tailored to their unique needs.
When it comes to your safety, we leave no stone unturned. Our dedicated professionals are here to ensure your building is equipped with the latest advancements in intercom technology and surveillance systems. Experience the peace of mind that comes with Total Security—where your protection is our top priority.
Want a free onsite estimate? Call (516) 775-2304 or fill out our form.
Residential Intercom Systems for Apartment Buildings in Ozone Park
Our intercom systems installations division specializes in a full range of residential buildings, brownstones, luxury apartments, condominium buildings, co-op buildings, townhouses, and walk-up apartment buildings. We are your trusted provider of cutting-edge intercom systems in Ozone Park. Our expertise ensures that your property remains secure and accessible to authorized individuals, offering comprehensive safety measures and continuous monitoring. With seamless communication and efficient access control, our advanced intercom systems redefine security in residential buildings.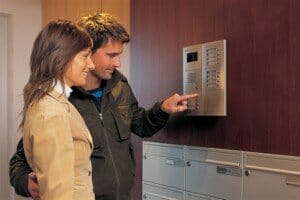 Our intercom systems are tailored to meet the unique needs of different building types, delivering unmatched expertise and exceptional service. From seamless integration to reliable functionality, our state-of-the-art solutions create a secure living environment that prioritizes the safety and convenience of residents and visitors alike.
Trust us to elevate security in your Ozone Park residential building with our advanced intercom systems, ensuring the highest level of quality, reliability, and peace of mind.
Benefits of Apartment Building Intercoms:
Manage building access with video and audio without being present at the door physically.
Enhanced Tenant Security: Our system significantly improves security measures, providing tenants with peace of mind and a heightened sense of safety within the building.
Package Protection and Access: Safeguard delivered packages while ensuring authorized access to them, eliminating the risk of theft or misplacement.
Seamless Visitor-Tenant Communication: Enjoy improved communication between visitors and tenants, fostering efficient and hassle-free interactions.
Time-Saving Access Management: Streamline building access, saving valuable time for both residents and authorized personnel.
Enhanced Quality of Life: By integrating advanced security features, our solution enhances the overall quality of life for residents, promoting a safe and comfortable living environment.
Commercial Building Intercoms in Ozone Park
Our services extend to various commercial buildings and apartment buildings in Ozone Park. Whether you own or manage a Class A office building known for its state-of-the-art facilities, a Class B building located in vibrant neighborhoods, or a Class C building with a more casual atmosphere, we have the office intercom system solutions to meet your security needs.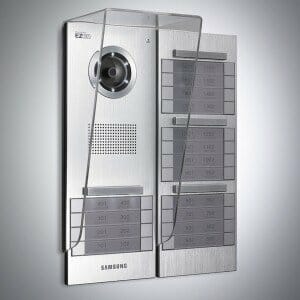 Class A Office Buildings: The pinnacle of excellence, Class A buildings offer unrivaled amenities, including cutting-edge security systems, prime locations on bustling avenues near transportation hubs, 24/7 access with guarded lobbies, and stringent entry requirements.
Class B Office Buildings: Situated on vibrant side streets, Class B buildings blend historic charm with modern revitalization, particularly found in popular areas like Chelsea, Flatiron District, Union Square, SoHo, Tribeca, and select Ozone Park neighborhoods, catering to businesses seeking a balance between character and contemporary appeal.
Class C Office Buildings: Located on cozy side streets, Class C buildings embrace a more casual atmosphere, often featuring unattended lobbies and limited elevator access, fostering a close relationship between tenants and landlords; many property owners are investing in upgrades to enhance these properties.
Some of the Benefits of Commercial Office Building Intercoms are:
Access Control: Gain full control over who can access the building, ensuring enhanced security measures and restricted entry.
Employee Safety: Prioritize the safety of your employees by implementing a reliable access control system, providing a secure working environment.
Cost Reduction: Reduce overhead expenses by eliminating the need for a concierge or guard, while maintaining robust security measures.
Access Management: Enable multiple employees to conveniently grant access from the office, streamlining the authorization process.
Remote and Flexible Access: Embrace the opportunity to allow remote access or manage access from distant locations, offering convenience and flexibility.
24/7 Building Safety: Enhance the safety of your building around the clock, providing continuous security measures and peace of mind.
Improved Communication: Enjoy clearer communication through screens or audio systems, facilitating efficient interactions and information exchange.
Common Reasons You Need an Intercom System Installation or Replacement
Discover the common reasons for upgrading, from outdated systems to repairs, and benefit from ongoing support even after the installation is completed.
Outdated Systems: If you have an old intercom system (30-40 years or older), we understand the need to adapt with the times and offer upgrades while reusing existing wiring to provide a cost-effective solution.
Audio to Video Upgrade: Upgrade from an audio-only intercom system to a video and audio system, allowing you to answer and grant access from anywhere in the world, offering improved convenience and security.
Repairs and Fixes: If your intercom system is broken or not functioning properly, our expert team can diagnose and fix the issues, often utilizing existing wiring to save you money and restore functionality.
Enhanced Building Amenities: As a property owner or manager, you may seek to improve the amenities your building offers, and upgrading the intercom system can provide tenants with an enhanced living experience.
Types of Intercoms We Install
Total Security offers an assortment of intercom systems tailored to your specific requirements. Our installations include video/audio intercom systems, audio-only intercom systems, IP-based intercom systems, virtual door attendant, intercom systems, and telephone entry systems. Each system is designed to enhance security and communication within your building or apartment building.
How Intercom Systems Work: The Basics Explained
Visitor Identification: Using the external intercom unit and directory, visitors locate the person they wish to contact for building entrance, whether it's through a video or audio intercom system.
Calling a Specific Individual: Initiating communication, visitors press the 'call' button on the intercom, selecting the appropriate unit number to connect with their desired contact.
Notification Process: Building occupants or staff members are notified of the visitor's presence through either a buzzer or their smartphone, alerting them to the incoming call.
Resident/Employee Options: Once notified, residents or employees can choose to end the conversation, engage with the guest, or make a decision regarding door access. If they opt to grant entry, the intercom activates an electronic relay that triggers a door-releasing device, such as a magnetic or electronic lock, unlocking the entrance door to provide the visitor access to the building.
Why Is A Video Intercom The Best Choice?
When it comes to intercom systems, a video-capable solution always offers superior security benefits. By enabling both audio and visual communication between tenants and visitors, a video intercom system adds an extra layer of security compared to audio-only systems. This is especially crucial for office buildings or apartment buildings without a concierge or security guard services, ensuring residents (or office tenants) can identify visitors before granting access.
The Intercom Installation Process Will Be Unique To Each Client
Our installation intercom system and the scope of work involved. In Ozone Park, most intercom system installations will be upgrades. For retrofit projects, (upgrading existing older intercom systems), we save clients money by utilizing the existing intercom wiring. This also minimizes disruption to the building's infrastructure.
By contrast, with IP systems—the installations require rewiring (Cat5/6). When that is the case, the installation process becomes more complex. Additional hardware is also required for IP systems.  Our process is tailored to each project and each Client. It all depends on the type of
We approach each installation with precision and expertise to deliver seamless results. Scope is impacted by your needs. For example, wiring to enable alerts to tenant's' devices often only requires a main entry panel that is then wired to an internet gateway. However, if each apartment is required to have its own internal intercom stations, then new wiring must be run to each and every apartment from a central control location.
Whatever your needs, we will develop a process that meets your needs and minimizes both disruption and cost while ensuring you are using the most optimal and up-to-date intercom system.
How to Select an Intercom System Installer in Ozone Park
When choosing an intercom system installer near Ozone Park, it's important to consider the following factors:
Experience: Look for a company with extensive experience in installing intercom systems.
Types of Installations Completed: Ensure the installer has a diverse portfolio of installations that have tackled your unique challenges and have succeeded in meeting the needs of the building.
Manufacturer Hardware: Verify that the company has access to reliable and professional-grade intercom system hardware. Verify that they can install complicated systems, not just "out of the box" systems you can buy online or in big box stores.
Specialization: Choose a company that exclusively focuses on security solutions specifically for buildings and apartment buildings, rather than viewing it as an add-on service.
Service Policy: Consider the company's commitment to providing exceptional service and support to its clients, both now and into the future.
Ready to receive a free onsite estimate? Call (516) 775-2304 or fill out our form.
Why Choose Total Security for Your Intercom System Installations in Ozone Park, NY?
Total Security understands the importance of taking a proactive and prevention-focused approach to ensure the safety and well-being of individuals and organizations.
How we help:

We create a comprehensive surveillance and intercom system safety plan tailored to your specific needs and requirements.
Our extensive experience and expertise enable us to provide innovative security measures that effectively mitigate risks and safeguard your tenants, guests, employees, and assets.
We provide Lifetime Tech Support to all Clients.
With us, you can trust that your security needs will be met with cutting-edge solutions and a commitment to creating safer environments that manage risk and minimize liabilities.
Total Security excels in several areas, making us a trusted choice for all your security needs. Our strengths lie in our adaptability, experienced team, and comprehensive services. We understand that unforeseen circumstances can often lead to changes in the original scope of work in any construction project. However, we take pride in our ability to seamlessly adapt to changing environments and consistently deliver on our promised results.
One of our key strengths lies in our team of highly experienced Foremen and Project Managers. With extensive industry knowledge and expertise, they possess the skills necessary to oversee proper manpower utilization and keep your project on schedule. Additionally, they are proficient at overcoming installation issues as they arise, ensuring a smooth and efficient process.
Our company-trained Security Solutions Installers are among the most knowledgeable and reliable professionals in the industry. They are well-equipped to handle any security system installation, providing you with peace of mind and confidence in the quality of our work.
Unlike other security equipment vendors, we go beyond merely supplying cameras and commercial buildings & apartment building intercom systems. We have our technicians, a fleet of trucks, and a dedicated office staff ready to assist you at every step.
This comprehensive approach allows us to design, install, maintain, and repair your entire intercom security system promptly and with minimal downtime. You can rely on us to swiftly address any issues that may arise, ensuring the continuous operation and effectiveness of your security measures.
Moreover, we have earned a stellar reputation and credentials, including an A+ rating from the Better Business Bureau (BBB). This rating serves as a testament to our commitment to excellence, customer satisfaction, and ethical business practices.
You can trust that our adaptability, experienced team, comprehensive services, and outstanding credentials make us the ideal choice for all your security system needs.
Would you like a free onsite quote? Call (516) 775-2304 or fill out our form.
Our Process - How It Works
When you choose Total Security for your intercom system installation, you can expect a seamless process:
Security Consultant Visit: Our experienced Security Consultant will visit your location to understand your specific needs and requirements.
Detailed Proposal: We will prepare a detailed proposal with a comprehensive scope of work tailored to your property.
Board Approval: In most cases, the proposal will require approval from the Board or relevant decision makers.
Revisions and Questions: We are available to address any questions or concerns during the Board meeting, and we can revise the proposal if necessary.
Sign-off on Scope of Work: Once the board approves the scope of work, we proceed with the installation process.
Installation: Our expert technicians will schedule and carry out the installation efficiently and professionally.
Top Brands of Intercom Systems We Install
Carson
For higher-end "virtual doorman" types of installations
Butterfly
For higher-end "virtual doorman" types of installations
Comelit
Standard wire system
IP-Based Systems
AiPhone
LeeDan
Budget-conscious, audio-only installations
Intercom System Installation Case Study
Here is one of our previous installation case studies:
Client: Mount Sinai Health Systems/Residential
Address: 515 West 59th Street, New York, NY
Mount Sinai Health Systems is a hospital network located in New York City.  Their Residential division owns multiple buildings throughout the NYC area.  These buildings are used to provide affordable housing and incentives to the hospital network's clinical students and staff.
515 West 59th Street is a 33-story residential high-rise with 465 units and 24-Hour Doorman service.
Several companies were under consideration, including a current provider. The Enterprise Division of Total Security engaged in multiple meetings with the Principals of Sinai and the management of the building.
Throughout our discussions, we formulated several proposals for the Scope of Work. As is customary in any project, the requirements may change the design phase. Through collaborative efforts, we successfully developed a Scope of Work that effectively addressed all of Mt. Sinai's concerns regarding the building's intercom system.


Ultimately, our consultative approach distinguished us as the preferred security firm among the various contenders. Leveraging our extensive expertise, we were able to provide practical solutions to the challenges conveyed by Mt. Sinai.
For professional intercom system installations in Ozone Park, please contact us or give us a call at (516) 775-2304.  We operate locally and can provide quick service and support. Schedule a free onsite evaluation of your building.
Ozone park is located in the Southwestern area of Queens, NY. With over 20,000 residents*, a diverse makeup of ethnicities, and building types including multi-family homes, multi-story commercial buildings, condos/co-ops and other buildings and residences, Ozone park is continually in need of security solutions to keep both residents and business owners safe. Notable landmarks include the "Aqueduct Racetrack in South Ozone Park, a popular spot for Thoroughbred racing and home to the Resorts World Casino & Hotel.
[*source: https://en.wikipedia.org/wiki/Ozone_Park,_Queens].
" There are over 17,000 housing units in Ozone Park"
(source: https://www.point2homes.com/US/Neighborhood/NY/Queens/Ozone-Park-Demographics.html).
There are hundreds of residential buildings and commercial buildings (based on buildings for sale data alone), though the actual total is not well documented online.